Women of migrant background talk about the labour market in Greece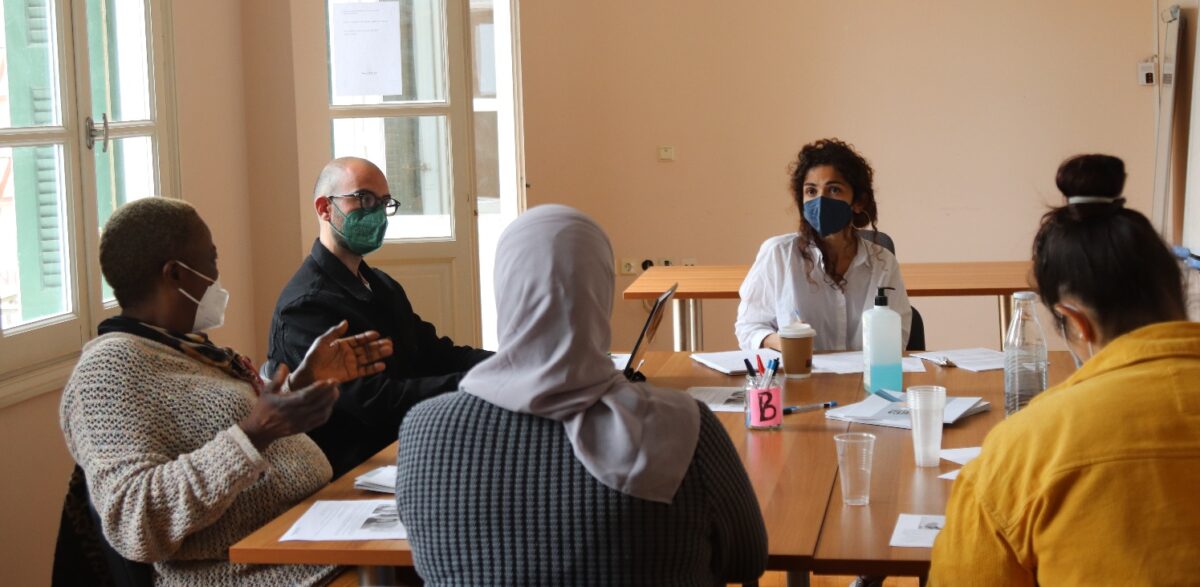 They are women residing for some years now in Greece, in their majority 25 to 34 years old, most of them married with children, migrants and international protection applicants as well as refugees, wishing to be active members of the labour market in Greece. 
With work experience in the humanitarian field, caregiving for the elderly, facility management, customer service and hospitality, in full and part time positions, they speak to us for various subjects concerning work: gender equality, work opportunities, supportive and non-supportive employers, discrimination based on their origins but also racism in the work environment. 
The majority of the women, participating in the needs assessment survey implemented under the project Worldplaces-Workplaces Working with Migrant Women, focuses on the necessity of Greek language programmes, recognising the language as a skill that increases opportunities for all. Besides that, they speak for the need for vocational training programmes and, moreover, the need for being well prepared before being included in the labour market, by placing in the center the knowledge of their labour rights but also of the workplace culture. 
It is apparent that there is a lack of information provision by the employers concerning employees' rights when they are recruited at a new place ("It is important to know what is written in the contract. To know how to read and understand what there is in the contract"), but they, also, need to know how better to react to the breach of their rights when that happens or when they confront discrimination and racism. Several women are reporting unpaid work hours as well as very low salaries, due to occasional or part-time employment, and, at the same time, excessive undocumented overtime and workload. "Many duties. I believe because I am African. If there was a white person, they wouldn't stay even one shift in the kitchen. Me, because I am African, I am there". 
On the other hand, discrimination seems to be dominant in the work environment, since such incidents are mentioned by almost every woman: They have experienced discrimination based on age, gender, colour, legal status, origins, appearance and the majority of them believes they will face discrimination in the future too. What they emphasised is that people being discriminative and doing microaggressions are, also, their colleagues, and in some instances, people of migrant background. However, positive experiences are not rare, and a big number of women replied affirmatively to the question if they ever had a supportive employer. How do they define the supportive employer? "Without prejudices", "honest, patient, generous, with understanding", "encouraging me to learn the language while trying to understand me", "understanding the background and helping me not to lose my job when I am a mum". 
How do they see gender equality in terms of work, for which directives, initiatives and actions are currently dominating the European and Greek landscape? Do they think they have equal opportunities with men? "When I finished work (in summertime), they told us they would call us, us, women from Africa. However, they only called men". Even, in terms of professions which are destined for women, they highlighted there are no opportunities: "Wherever I worked, I didn't face equality. For instance, there are job positions for men (i.e. production machines, trucks). Women are limited to specific professions (i.e. making cookies, cleaning). Many women stay at home for this reason, there are no jobs", "I went to a job interview and once they saw me with a baby, I didn't go through the interview". 
Following the work hours, how do those women manage their free time? What are the activities they devote themselves to? The majority mentions cooking and other house chores, while at the second position come the studying and learning a new skill (indicative of their need to develop and evolve), and the children's caregiving or internet browsing follow. 
What I choose to keep for the end is the striking response of a French-speaking lady, who to the question "how would an ideal employer be", she replied: "The one who shows love". 
The testimonials were gathered in focus group discussions at Generation 2.0 for Rights, Equality & Diversity during the summer of 2022 or with the online completion of the survey. What the 33 participants shared, in the context of the co-funded project by the Asylum, Migration and Integration Fund of the European Union "Worldplaces-Workplaces Working with Women", are indicative of the matters and difficulties faced by women in the labour market, and perhaps not only by the ones with a migrant background.