Report on the Directorates of Foreigners and Immigration of the Decentralized Administration of Attica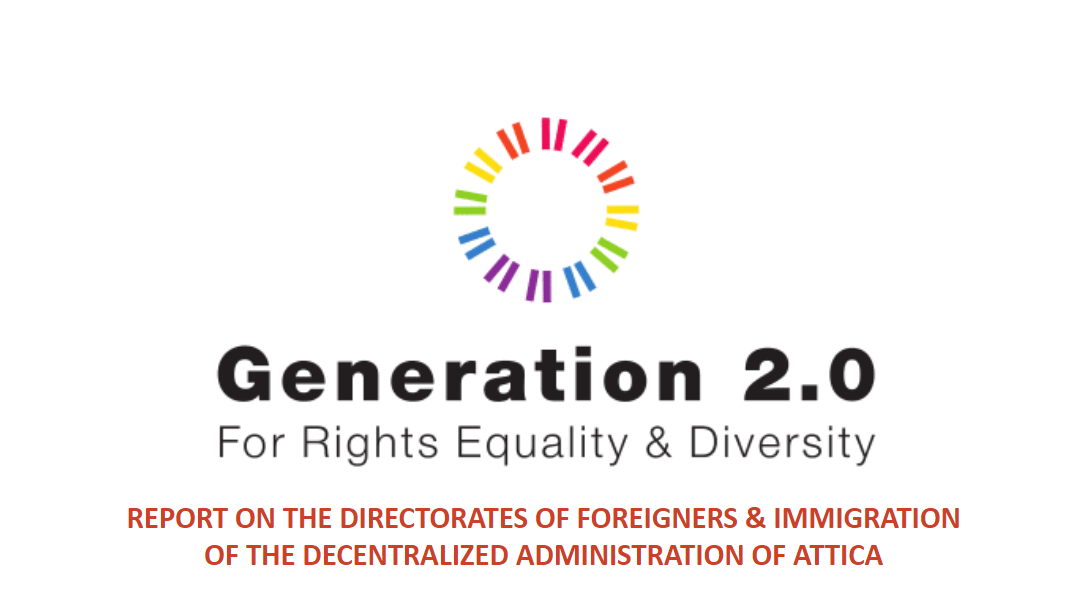 This report is an initiative of the organization Generation 2.0 RED in the context of its systematic monitoring of the administrative implementation of the Immigration and Social Integration Code (Law 4251/2014) by Directorates of Foreigners & Immigration (DFI) of the Decentralized Administration. 
The aim of this report is to document and present the most important and chronic issues faced by the four DFIs up until today according to the data provided by them as well as our own experience in the field. The information presented was collected during the period February-March 2020, from meetings of the organization with the heads of the four DFIs and updated in October 2020. 
The first chapter presents a general assessment of the situation in DFIs of Attica as it has been formed today. The second chapter follows a documentation of the most critical issues that exist today and are specifically related to the processing times involved in the issuing of residence permits and issues related to the staffing of the services. The third chapter presents specific categories of residence permits with significant delays in their issuing. Then, the fourth chapter presents the consequences of the various preventive measures against the spread of coronavirus (covid-19) taken in the period from 11 March 2020 to 24 April 2020 on the operation of the DFIs. In the fifth chapter, some good practices that the DFIs themselves have implemented in order to improve the administrative malfunctions that have arisen are listed. In the sixth and final chapter of the report, remarks and suggestions are made to the Ministry of Migration and Asylum on the issues reflected in the report, in order to improve the operation of the administrative procedures for issuing residence permits by the DFIs.
The current issues in the system for granting resident permits negatively impact a TCNs ability in obtaining and/or maintaining legal residence. Gaps or problems have been observed, relating either to the organization of the services provided or to failures in the design of immigration policies and in the institutional approach to the realities of immigration. With the publication of this report, we call on the Ministry of Migration and Asylum to take our proposals into consideration and take the necessary steps towards their resolve.
Here you can read the whole report
---
We would like to thank the Directorates of Foreigners & Immigration (Athens A, Central and Western Attica, Northern & Eastern Attica, and, Southern Attica, Piraeus and the Islands) for their valuable contribution to our effort in documenting the current situation as well as for the constructive dialogue proposals for its improvement that ensued.