Our participation in the first EU Anti-Racism and Diversity Week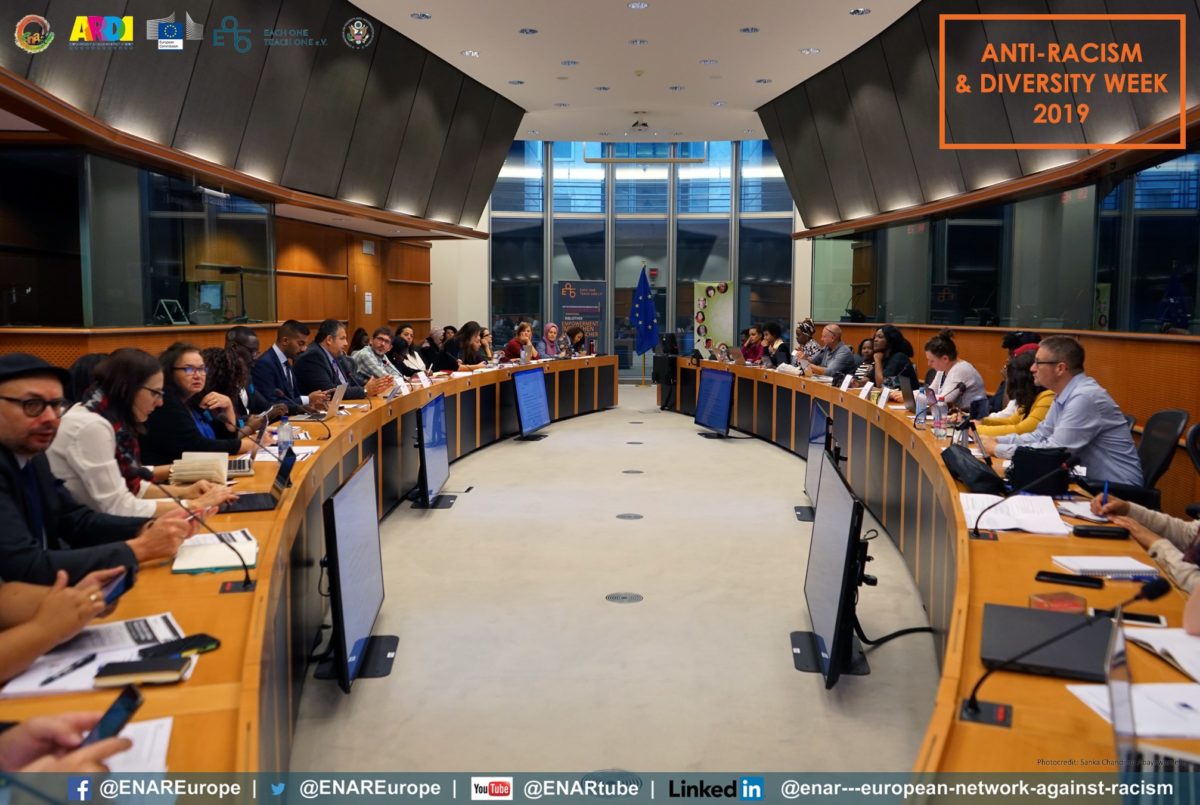 Generation 2.0 for Rights, Equality & Diversity participated, as part of the mission of the European Network of People of African Descent (ENPAD), in the first EU Anti-Racism and Diversity Week, which took place in the European Parliament from 23-26 September 2019. The event was co-organized by The European Parliament Anti-Racism and Diversity Intergroup- ARDI, the European Network Against Racism (ENAR) and Each One Teach One to commemorate the start of the European Parliament's new mandate.
The weeklong events and discussions kickstarted a fruitful dialogue between politicians and civil society, with the aim of building a strong anti-racism/anti-discrimination and diversity agenda for the European Union within its current term. Specifically, the hearings and panel discussions which took place focused on the following topics:
Equality and non-discrimination legislation, policies and practices

Institutionalized discrimination as a result of law enforcement/policing, immigration/ migration policy and counter-terrorism policies

Political participation and representation

An intersectional approach to gender policy
In this context, and occasioned by the newly assumed duties of the Greek Members of the European Parliament, we met with the MEP's who responded to our request, for a mutual exchange of information, views and a discussion on proposals towards addressing the above mentioned topics through their parliamentary mandate. We met with Nikos Androulakis (PASOK-KINAL), Konstantinos Arvanitis (SYRIZA) and with Alexandros Kyriakakis, the representative of Stelios Kymbouropoulos (New Democracy). The discussions revolved around issues which fall within the wider context of integration policies.
More specifically, the topic of the undeclared work of immigrants in several sectors was discussed, in particular, those which are favored by the under-economy and the widespread demand for unskilled labor. Emphasis was placed on the need to protect workers who, due to their precarious legal status in the country, are more likely to become victims of labor exploitation and are often exposed to miserable working and living conditions with low wages and without social insurance. Following, the importance of voting rights of long-term residents in local elections was mentioned. We emphasized how granting voting rights to this category of citizens is a matter of equality and recognition of their right to essential and active participation in the politics of their place of residence. Finally, the current citizenship procedures in Greece were discussed, where bureaucracy continues to cause great difficulties in obtaining Greek citizenship for those entitled to it.
All three MEPs expressed a desire to continue this dialogue on the above mentioned issues. On our part, we believe that the entire week as well as the exchange of views with the Greek MEP's was very constructive and we look forward to future collaborations towards raising these issues at both a national and European level.