The Treadmill Era: Testimony by a slave trade victim
"We keep on going, thinking we run away from the old ages but, in reality, we stand on the exact same place."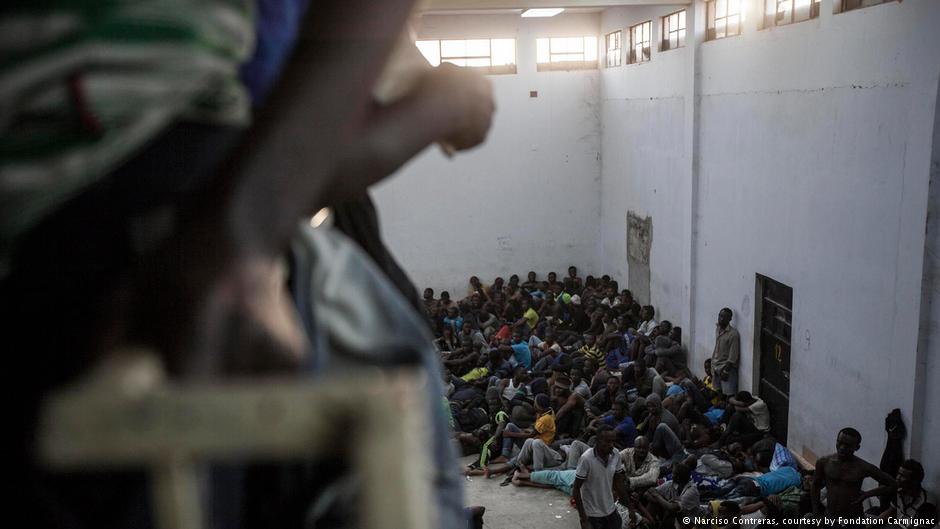 An article by Ahmed Fares
---
Stage one: The Facebook
When H. changed his Facebook profile picture and I saw him standing beside the Eiffel tower, I took the decision to do anything possible or impossible to move to Europe.
This is how P. answered my question about how, when and why he took the decision to move to Europe from his country. P. has four siblings and he used to believe that his family is the most important part of his life. He was the eldest and, although he was only 21 years old, he was always feeling responsible for his family. He didn't finish high school and he was crazy for Video Games before he realized he had no time to waste and he should focus on how to earn money. So, he started working as an assistant car mechanic, electrician, carpenter, and finally he had the chance to work in the public street market, in one of the vegetables and fruit shops. He continues his story…
I immediately texted H. and asked him how he moved to Europe, how much he paid and if he could help me to flee to Europe as well. H. answered that he would provide any possible assistance to help me come to Europe.
So H. gave P. a Viber Number to call or to text, in order to ask for more details, talk about the arrangements and learn what is actually needed to start the journey to Europe. Immediately P. started a Viber conversation and realized he needed 500 Euro to move from his Country to Italy, France, Spain or Greece. It was a very big amount, but when he discussed it with his family, everyone supported him with money and within 2 months he was ready for his dream to come true.
---
Stage Two: The Journey
Just the thought of moving from middle Africa to Europe is kind of a luxury, but what about when you actually start moving and you dream looks approachable!
Money is ready, small handbag is ready and his mobile phone battery is full. After saying goodbye to his family, he goes to meet the smuggler near the center of his city. Once he arrives to the collection point, he finds a very big truck and one guy tells him to hurry and get inside the cargo area. There, someone welcomes him, takes the money and asks him to sit down because it's a long way. Inside the truck there are somewhat three people, but he can't see them well or start a conversation with them, because it is very dark and the truck is going too fast.

The truck stopped seven times in total to collect people. About 32 people are now on board, the cargo area is congested and the driver uses maximum speed in a very rough road, which makes everyone complain and talk to each other. Within the 12 hours drive, P. had different conversations with different people and discovered some facts:

1.Everyone was paying a different amount, around more or less 500 Euros
2.Kids or old people were not allowed
3.Almost everyone had the same experience with the Facebook friend and his photo in Europe
The truck stops somewhere and I think this time I'm out of my country borders. They start to offload and distribute us to three groups in three small and very dirty trucks, warning us to keep silent if the truck stops for any reason. They finally give us food and everyone is inside, having his small bag and mobile with no battery except for one guy: his mobile is still working and I am the only one who realized that we were inside Sudan because of the roaming sign on his cell phone.
Nobody feels like making phone calls or even using the internet, we are all in deep thinking and can't get out of our heads how these people are well organized and accurate.
After maybe four hours, the truck stops and we follow the instructions on staying silent. Suddenly, the driver opens the back door and an officer in military uniform is with him. He looks at us as if he is counting us, looks back to the driver and nods "OK", the driver closes the door and we are on the move again. The same thing happened about four times during two days. Every time I thought we were in danger and that they would arrest us, but I also felt we were safe and that this guy would deliver us to Europe in the safest way. The third morning I heard some clear Arabic words, which I knew because of the Islamic holy book and because my grandparents used to live in Saudi Arabia.
---
Stage Three: The Camp
On our final station the truck door opened and they started to use body language to make us understand what they wanted, because there was no common language for communication. They asked us to come out of the truck one by one, take off our shoes and open our bags. They took our mobiles and most of our personal stuff, evaluating us -I think- based on physical conditions and how strong each person was.
After they accommodated us, they gave us food and some herbs to put on our tongues, not to eat but just to keep in our mouth like a gum. After 3 days I realized it's a kind of a drug called Kaat, which made us somehow happy and not feeling much hunger or thirst, keeping us in a state where we could spend days and nights staying in our places doing nothing.
The camp location was inside the desert, but not in tents. It was one floor building with very weak walls, built in a very cheap and basic way and, as far as I'm concerned, this time we were in an Arabic country but I couldn't identify which one. After maybe one week, in the middle of the night we heard cars parking and after about one hour they came to my place and took seven persons. After maybe three hours only the four of them came back. When I tried to understand where the other guys were, nobody answered or if they did, I couldn't understand what they were saying.
Another week passed and we heard cars parking again. The same procedures were followed, only this time they asked me to go with them. I found about 20 people with me and they took us to the building nearby ours, where we found some "Shekhs" (men with traditional Arab Clothes) looking very rich, picking us one by one in front of these Shekhs, saying words in Arabic, I think something like "strong, clever, doesn't sleep a lot, doesn't eat a lot". Then these Shekhs started saying things I couldn't fully understand and finally, the people that brought us there congratulated one of them and asked me to wait outside with one of the camp guards.
Right in that moment I found H. carrying heavy furniture with other guys, moving it inside the building… In that specific moment, my tongue didn't help me to shout at him or scream. I don't know if it was psychological or because of the drugs we always took, but what I was truly sure about in that moment was that there is no Europe and something very bad is happening to my whole life.
After two hours, the Shekh took me to his car like he was 100% sure that I would not escape or run from him. When the car moved from the camp, I was so calm and quiet, but only 15 minutes later, when we arrived in the highway, I didn't hesitate to jump from the car immediately, ignoring the high speed. If I was in a stable mental condition, I would have never made this decision.
I lost my consciousness and I woke up in a place where some people were giving me first Aid, as I had many injures on my head and my knees. They took me to the hospital and this time I saw a police officer coming my way and felt like I became a free person again.
---
Stage Four: The Local Police
But the local police believed that I am working with the smugglers, they didn't listen to me at all and my trying to communicate with them in some Arabic only made things worse… I stayed in jail for more than three weeks, eating every 12 hours and using the toilet only twice a day. Finally, they started asking me about my country (flag, national song, presidents, currency, places, etc) and then they just sent me back to my country's borders with no official way or any cooperation between my country and Libya.
---
Stage Five: Back Home
Before I reached my house, I found a friend of mine on the way, asking what happened to me and why I came back from Italy! I asked him why he thought I was in Italy, to which he responded something about my Facebook photo with the Coliseum. When he showed me my Facebook account to see the photo, I understood why they took our mobiles and I also understood how stupid and blind I was not to recognize basic and unprofessional Photoshop. I finally understood how easy it was for this trafficker to collect money and what was going on all this time…
P. now keeps everything in secret. He told his family nothing about the whole situation, only that he never managed to arrive in Europe. But the real pain comes from the fact that he knows that his friend H. is still in Libya, for which he cannot speak, he cannot mention to H.'s family, not to any other person. And in fact, he shouldn't. Because this rotten system is everywhere, from P.'s hometown and the smugglers in his country, to the officers in the borders and those facilitating the slave market in Libya. Thousands of people are sold every day, in this very moment as we speak. And this goes on unbothered, undisturbed, in such an easy and simple way, that makes it even more terrifying, don't you think?