Online informative event | Residence permits and the operation of the immigration services (DAM)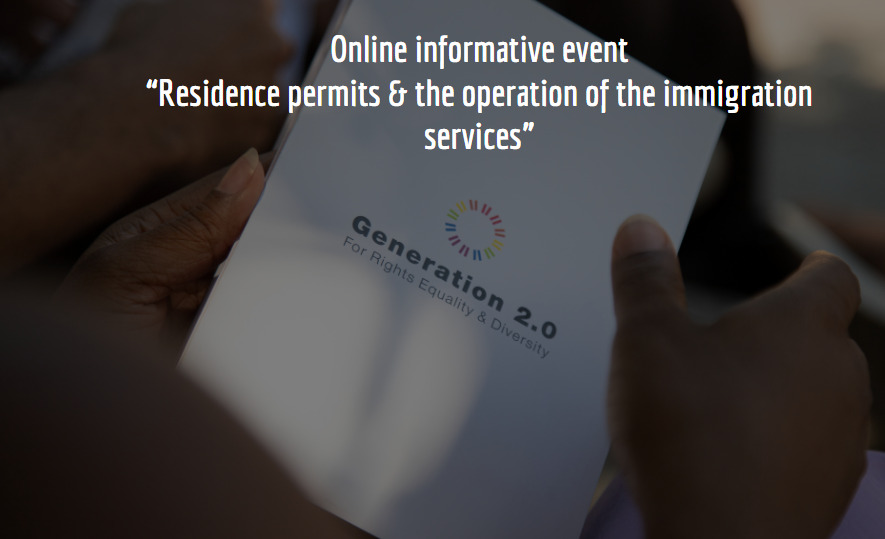 The pandemic's effect and the changes it brought to residence permits and to the operation of the services has created the need for information on the new situation. So, Generation 2.0 RED, in addition to providing legal advice individually, decided to launch an online informative event aimed at migrants on the following issues:
1) Appointments for the residence permit for exceptional reasons in Attica
2) The extensions of residence permits and blue certificates
3) The issuance of a certificate of extension for expired residence permits with detailed registration instructions on the electronic platform of the Ministry
4) The operation of the immigration services (DAM) during the 2nd lockdown
---
This informative event will take place on:
Wednesday, March 3 at 18:00 – 19:00 in French
Monday, March 8 at 18:00 – 19:00 in Greek
Wednesday, March 10 at 18:00 – 19:00 in English
If you are interested, please send us an email at [email protected] with your personal information, the date you are interested in attending, as well as any specific questions you may have around the above-mentioned topics. Then, you will receive the link to the event, which will take place via the zoom platform.
Here you can find the link of the Facebook event. 
Looking forward to seeing you there!