Job opening: Employability Officer at Generation 2.0 RED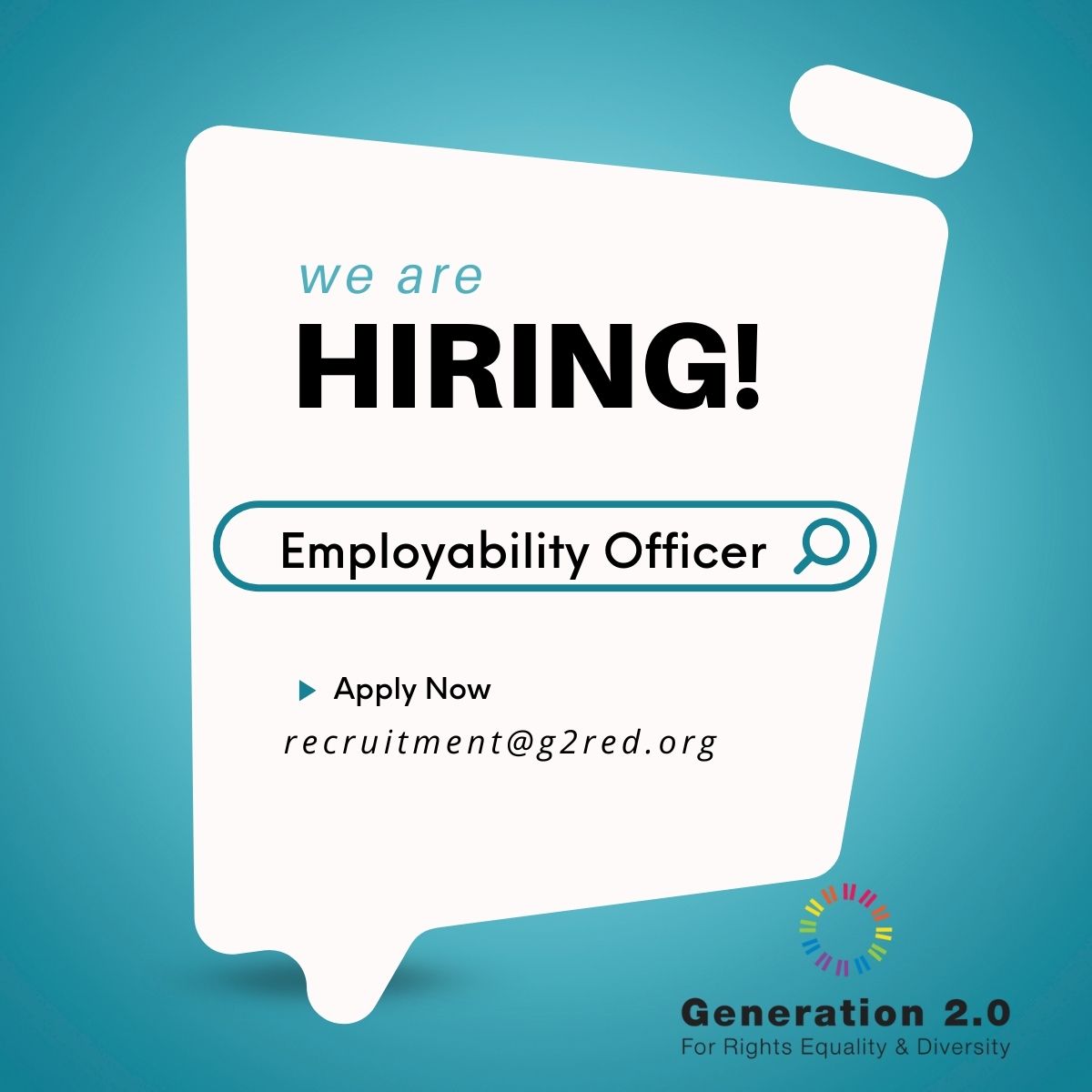 Employability Officer-Athens & 1 day/week in Korinthos
START DATE: ASAP
CONTRACT LENGTH: Full-time 6-month fixed term contract with possibility of extension
ABOUT GENERATION 2.0 RED
Generation 2.0 for Rights, Equality & Diversity is a non-profit organisation consisted of people with different origins who work together to promote equal participation in a diverse society, through the empowerment of communities.
We combine action and research, aiming to promote human rights, equality and diversity, fight racism, xenophobia and discrimination in general. As an organisation, we possess over 15 years of experience in social action, sociological & legal research, project management and cultural events. We participate and cooperate with the largest human rights networks in Greece and Europe, claiming the rights of socially vulnerable groups, regardless of their origin, nationality, religion, gender or sexual orientation.
At Generation 2.0 RED, we believe very much in the career-related empowerment that comes through skills development and knowledge on Greek labour market & work culture and as well through the awareness of one's own labor rights. In order to be in position of providing high-standard services to people who are in search of a new career path in Greece and who are also of a migrant background, we are currently seeking a talented Employability Officer to join the team and contribute to the goals and vision of the department but also to that of the organisation.
The role is a mix of individual counselling in Greek, English & French, of trainings' facilitation (taking place at 3 service provision points – 2 in Athens & in Korinthos*) & all different activities that consistute the service and help us support in a holistic way the people coming to us.
If you are passionate about intercultural communication, and your vision is a diverse society with equal opportunities for everyone; if your greatest strengths are your interpersonal skills and your empathy, with focus on vulnerable populations, and if, as well, you take pride in your problem-solving and organisational skills, then come and join our diverse team!
You'll be working in a fast-paced environment, where new and innovative ideas are welcomed and attention to detail and quality work is highly appreciated. The role demands excellent language skills, relevant work experience in the humanitarian field and in Employability services provision, very good organisational skills and a team-spirit mentality.
You will:
Provide individual career counselling and guidance sessions to people of migrant or refugee background, adults and adolescents, with respect to the values of the organisation and in accordance to needs of the programme
Facilitate and conduct job readiness trainings
Provide proper information provision with focus on beneficiaries empowerment.
Keep up-to-date with other services provision (accommodation, health, legal aid etc.), job or educational opportunities as well as changes in labour legislation to share accordingly to beneficiaries and refer if needed
Implement a labour market-related survey by conducting interviews, collecting and analysing data
Support the Diversity Network Officer of the organisation in job matching requirements under the context of the Diversity in the Workplace Network
Browse, gather and edit recent and relevant job announcements for the weekly Job Adverts bulletin
Interact and collaborate smoothly with the team of professionals and volunteers to facilitate efficient service provision
Serve as a liaison with other formal educational institutes, public services or other service providers
Support the development and sustainability of the cooperation between the partners involved in the project
Ensure proper project reporting according to the Monitoring & Evaluation plan
You will possess:
A Master's Degree in Career Counselling & Guidance and/or a Bachelor's Degree in Psychology/Human Resources with specialisation/training in Career Counselling
At least 2 years work experience as an Employability Officer, Career Counsellor, Therapist, HR Officer
Past experience working with asylum seekers/immigrants (will be highly appreciated)
Advanced command of spoken and written French (is a must)
Excellent command of spoken and written English and Greek is a must
Knowledge about the labour market, trends, labor rights and recruitment procedures in Greece
Good command of Microsoft Office and familiarity with chat platforms
Availability to work in multiple locations during the week.
You will demonstrate:
Excellent interpersonal and intercultural communication skills with respect to different cultures
A positive approach and empathy
Excellent organisational skills and time-management skills
Very good facilitation and mentoring skills
Team management skills
Good research and analytical skills
Attention to detail
Enthusiasm, self-motivation and result-orientation
Commitment to constant improvement of quality of service
Adaptability and good problem-solving skills in challenging and tricky situations
Excellent team-working skills in diverse environments
High professional ethics and confidentiality
*Transportation to Korinthos service point will take place once/week and the cost will be covered
Please send your CV and a motivational letter at [email protected] with the indication "Vacancy: Employability Officer" until 3/10/2023.
The CVs will be assessed by G2RED with absolute confidentiality and regardless of your origin, religion, ethnicity or any other characteristics, as always.
Only shortlisted candidates will be informed on the progress of their application.