HIDE & SEEK: "All our life, the struggle for a paper, now it is our strong paper"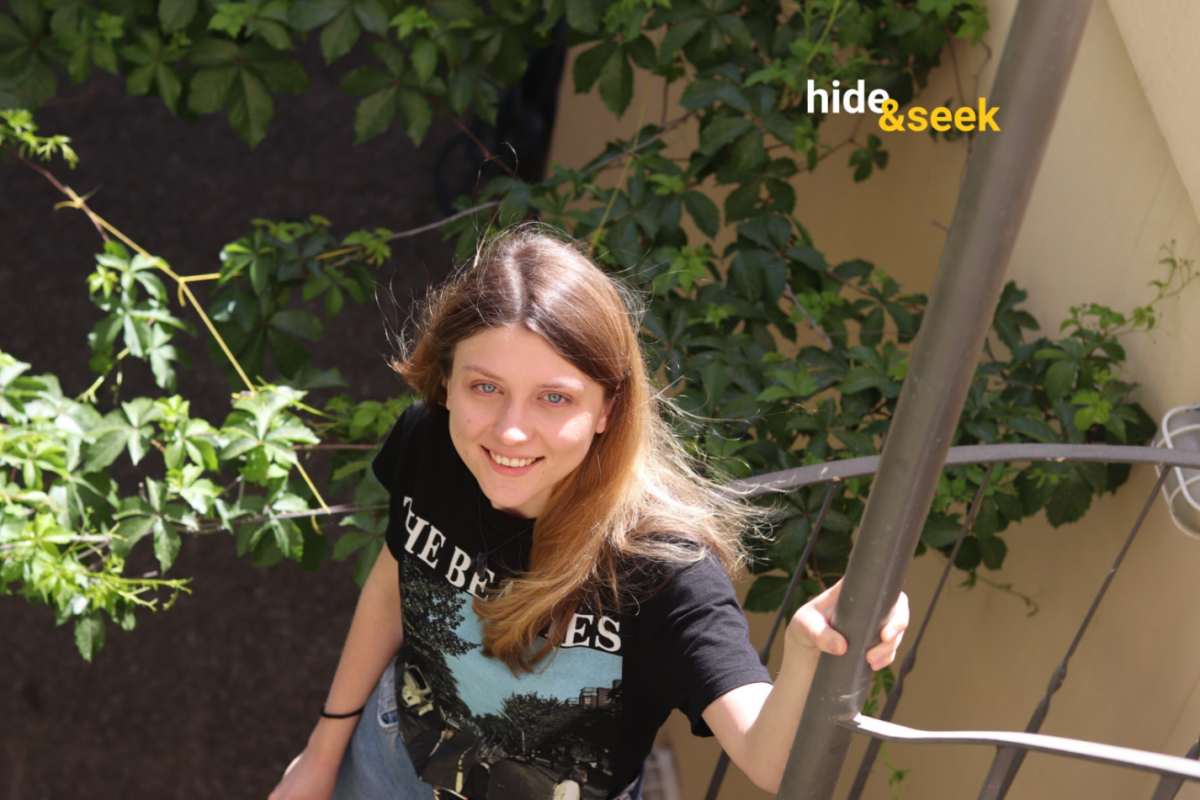 Written by Nataliya R.
In the last years, thousands of young people – and others not so young – who were born and/or raised in Greece, have gotten  Greek citizenship. Outside the naturalization offices, one by one they emerged from the depths of the frozen waiting to the surface and took their first breaths. They obtained lungs  thatinhale fresh air, legs that travel freely, hands that work meritocratically, they obtained a voice. Oh, and among other things, they also obtained the right to vote!
Taking into consideration two lines, that the right to vote means deciding for the best future of your country. Thousands of silenced voices will be heard in the forthcoming elections. One of those that will be heard for the first time via the vote, is that of Niki!
Niki is twenty-four years old and flew from Ukraine to Greece at the age of eight, to land in the city which would raise her, Athens. Her parents would work "somewhere", and Niki would start school "somehow". They all  made it!
Years later, Niki sits in my office reminiscing on the lengthy processes of renewal, the confusing sense of belonging, the depriving of voice, the cultural dipole. Currently, she is studying to become a social worker and in a few days, she will travel to the United States of America to visit her grandparents. She is young, smart, hardworking,  with dreams.
"I want to be optimistic about our future. Personally, I hope to practice what I am currently studying, and I am lucky to be studying what I really love. I hope that the crisis subsides – certainly the economic one – but above all, the social one.  In previous years, I wanted to leave the country and I could not, now I can but I no longer want to leave. By getting citizenship, I have understood where I belong and I finally have a voice. Now, I can express what I want".
In getting a voice, Niki and thousands of young people can now move forward, claiming their future and not being driven to flee or staying silent.
"I was not very politicized, because I was first searching to find where I belong, here I was a foreigner and there a Greek. When I got the ID, I realized I had a responsibility, I started to look deeper, I started paying close attention to the political scene. It is difficult for me because in terms of elections not much is taught in our schools and most people are turning to the Internet or their family. I think young people do not take it seriously, perhaps because they take it for granted".
We  discuss the worn out "citizenship = voters" which ignores the "citizenship = equal rights".
"Anyone can express their opinion, I do not take it personally. Now, however I can also express mine! In wanting to live here, I want to contribute to the change and claim my future. Now, I understand that carrying two cultures is wealth, as well as a responsibility. This is what I would say to those who have gotten and to those who are waiting for the Greek citizenship, to think about the responsibility towards society but also towards themselves".
The responsibility of all citizens of a country is to exercise their right to vote, as is their responsibility to protect democracy, equality and justice. These responsibilities start right from your behavior towards the person sitting next to you on the bus right to the person opposite you holding their ballot paper, their strong paper.
---
*Generation 2.0 RED's campaign «Τo Dynato Mas Xarti»  is not linked and does not endorse any political party or candidate.
**This project  was co-funded by the European Union in the frame of the European Parliament's grant programme in the field of communication. This project reflects only the views of Generation 2.0 for Rights, Equality & Diversity; the European Parliament is not responsible for any use that may be made of the information it contains.