Exhibition "This Is Evidence: Re-Picturing South Asian Migrant Men in Greece" | 11-14 April 2022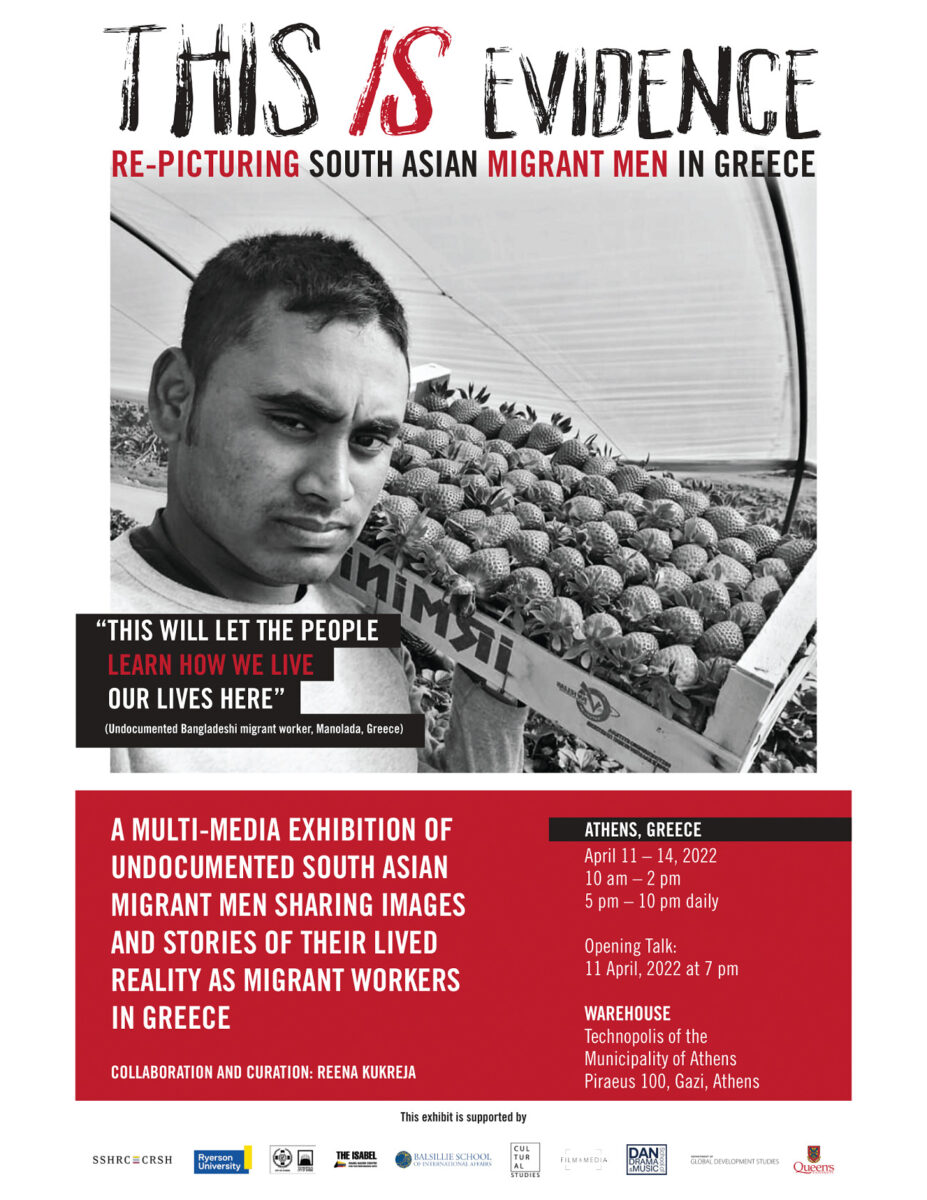 "This will let the people learn how we live our lives here." These words, spoken by an undocumented Bangladeshi worker, sum up the motivation behind a multi-country exhibition that highlights the experiences and voices of undocumented migrant workers across Greece.
This Is Evidence: Re-Picturing South Asian Migrant Men in Greece is a multi-media installation that features photographs, videos, and narrative pieces from four groups of Bangladeshi and Pakistani migrant men living and working in Greece. The exhibit premieres in Athens before moving to Canada. It runs from April 11 to 14 at the Technopolis City of Athens.
The exhibition is a collaboration between the migrant men and Dr. Reena Kukreja, from Queen's University in Canada, who has been working with them for the last two years on this project. The men used their cell phones to take images and videos.
There are an estimated 200,000 undocumented migrants from Bangladesh, India and Pakistan living in Greece—most of whom are young, poor men, with limited education. Despite leaving their homes in search of a better life, their work as agricultural labourers or participants in the urban informal economy is characterised by low wages, and poor living and working conditions.
Compounding the exploitation that many migrant workers experience is the social and political exclusion. Prevailing discourses of Islamophobia and xenophobia have enabled an "us" versus "them" narrative in the Greek political landscape.
This Is Evidence actively counters this narrative as the migrant men "re-present" themselves and their experiences directly to the people. This exhibition uses "photovoice" a social justice artistic method that gives marginalized groups such as these migrant men a voice through images and videos that they take of their lives.
Featured throughout the exhibit will be photographs and videos taken by the migrant men. The videos will be cast on three screens throughout the gallery and will display the conditions of work, videos of their living conditions, and interviews with the participating men. To adequately communicate the harsh living conditions, the exhibition will feature a reconstruction of migrant housing, designed and built by Bangladeshi men themselves. As guests examine the exhibition, they will also experience four channel soundscape at different locations of the exhibition that creates an immersive sonic experience that includes sounds from their work, leisure, and songs they listen to or sing.
This exhibition, by centering migrant perspectives, will humanize the migrant men and champion their concerns to a wider audience. While this exhibit highlights the experiences of only a handful of men, experiences of migrant exploitation, racism, and social and political exclusion are universal experiences among migrant workers. Throughout the exhibit, visitors will be able to scan QR codes and the Generation 2.0 logo to access interviews with the workers themselves and the Manolada Watch reports that highlight the abuses and exploitation experienced by workers.
This exhibition will champion the concerns of migrant men to a wider audience, and will equip activists to advocate for policy changes to labour migration and family reunification laws. This is critical as the numbers of migrants increases globally while populist backlash against racialised poor migrants gains strength.
Exhibit Details:
11 April-14 April, 2022
10am – 2pm, 5 pm -10 pm daily
Warehouse Technopolis of the Municipality of Athens Piraeus 100, Gazi, Athens
Media Contact:
Anna Pantelakou
Email: [email protected]
Website: https://www.thisisevidence.com/