Generation 2.0 Christmas Fundraiser Party!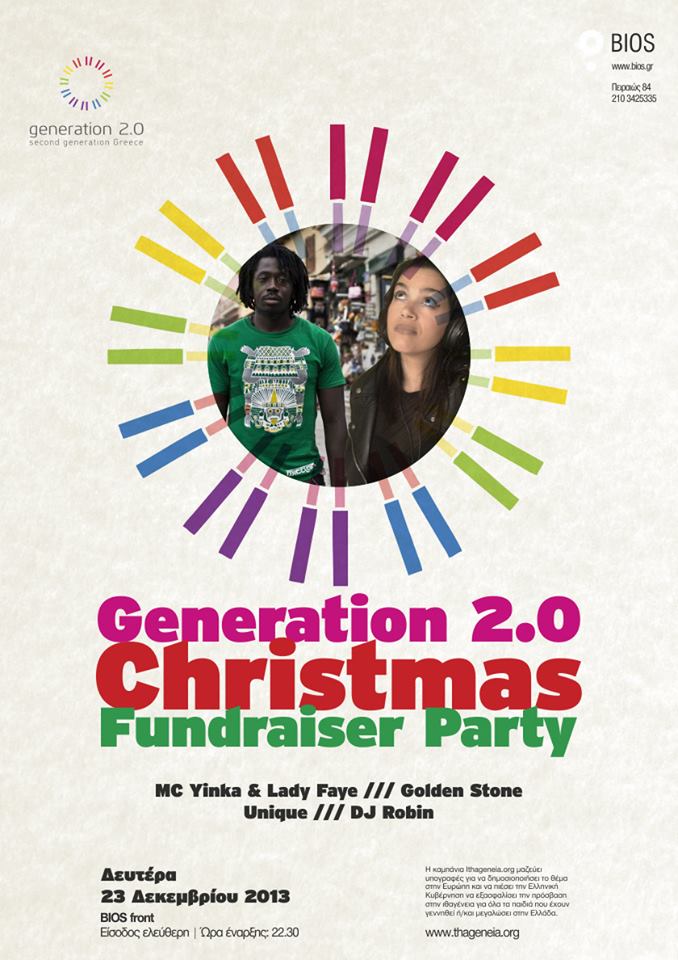 Come and share your Christmas spirit with us at our "Generation 2.0 Christmas Fundraiser Party" on Monday, December 23 2013, at 22:30! We are raising funds to support our campaign to gain equal rights for everyone of migrant descent who is born and raised in Greece. Join us for a night of dancing to live performances by
MC Yinka
Lady Faye
Golden Stone
Unique
DJ Robin!
Free Entrance
---
Enjoy our exhibit of the stunning photographs by the well-known Greek architect Charis Savvides, who donated his art to support Generation 2.0.
We are generation 2.0, a youth organization that represents the New Generation of Greek People, which includes the diverse people of migrant and Greek origin that were born and raised in Greece. We stand up for our right to be all equal citizens of the country we were born and/or raised.
In Greece, up to 200.000 children and young adults born to immigrant parents are considered and treated as "aliens" with no official documentation and no rights at all. Those children, born or raised in Greece, within the European Union, have no access to a formal citizenship, providing them with the basic means to get a sense of belonging and build a life filled with rights and duties like regular people.
---
All of us at Generation 2.0 want to say THANKS for supporting our Ithageneia campaign to gain equal rights for everyone of migrant descent who is born and raised in Greece! We look forward to seeing you at the party!
Find our Facebook event here