G2RED Pop-Up Concert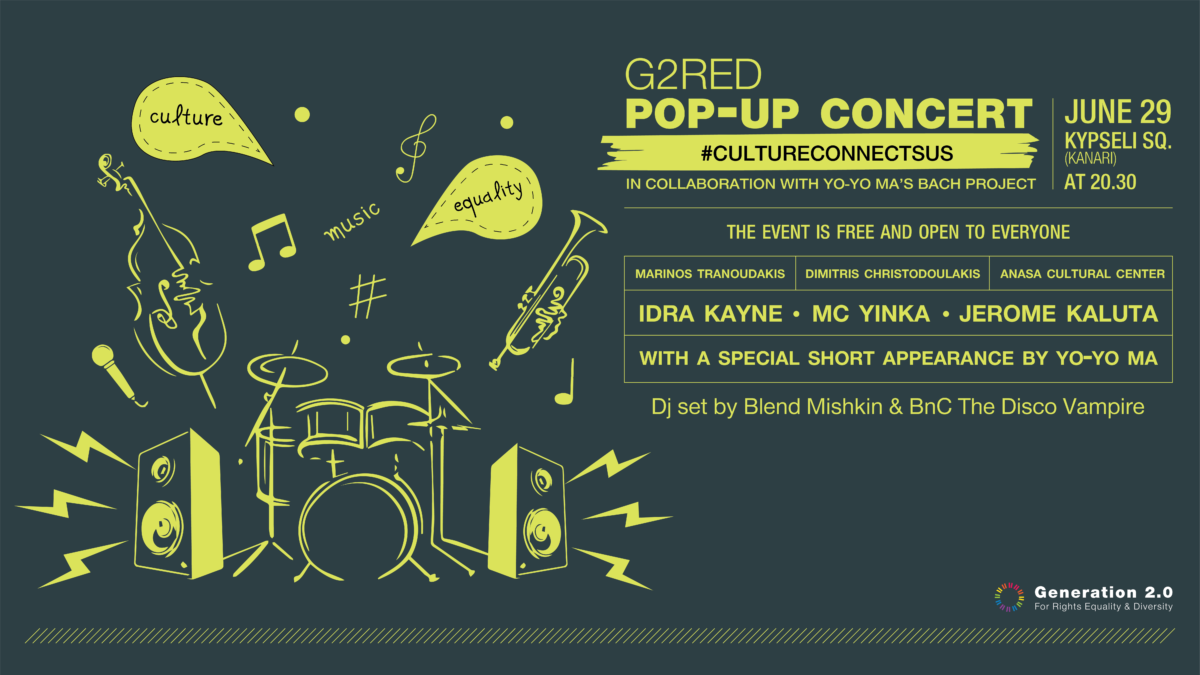 Generation 2.0 for Rights, Equality & Diversity invites you to its "Pop-Up Concert" at Kypseli square (Kanari) on the 29th of June, at 20.30!
Working towards integration, acceptance and coexistence in a diverse Athenian and overall Greek society with equal opportunities for all, we are organizing this event to bring together people of varying ethnicities and social backgrounds living in Athens and Greece, through music.
Βody percussion by Anasa Cultural Center, Marinos Tranoudakis and Dimitris Christodoulakis, Dj Set by Blend Mishkin and BnC The Disco Vampire and live performances by Mc Yinka, Idra Kayne and Jerome Kaluta will meet on a common stage.
We are happy to welcome Υο-Υο Μa, who will join the artists for a short live performance, one day before his performance of Bach's complete cello suites, at the Athens Festival. This event is part of his two-year Bach Project, a global series of performances, conversations, and events that ask how culture can help us to imagine and build a better future.
This event is an opportunity for all of us to come together in a shared space to celebrate diversity and emphasize all that we have in common.
#cultureconnectsus
---
 The pop-up concert will start at 20.30 at Kanari square, Kypseli.
The event is free and open to everyone!