Diversity Volcano, A floor board game makes you Citizen of the World
The "Diversity Volcano" is an innovative floor board game, designed to work as an alternative educational tool, aiming at familiarizing students with the concepts of diversity, multiculturalism and human rights!
It targets students from 11-14 years old and it aims at exploring the fundamental human rights and the acknowledgment of their importance globally. It was created by Generation 2.0 RED in collaboration with educators who specialize in creating quiz games so as the knowledge gained from the last grade of the primary school up to the last grade of college can be practically connected to the above mentioned values and concepts.  The players have to travel on a world map by answering a variety of questions relevant to different cultures, religions, rights and traditions and become Citizens of the World. The questions vary in difficulty depending on the age/grade of the players.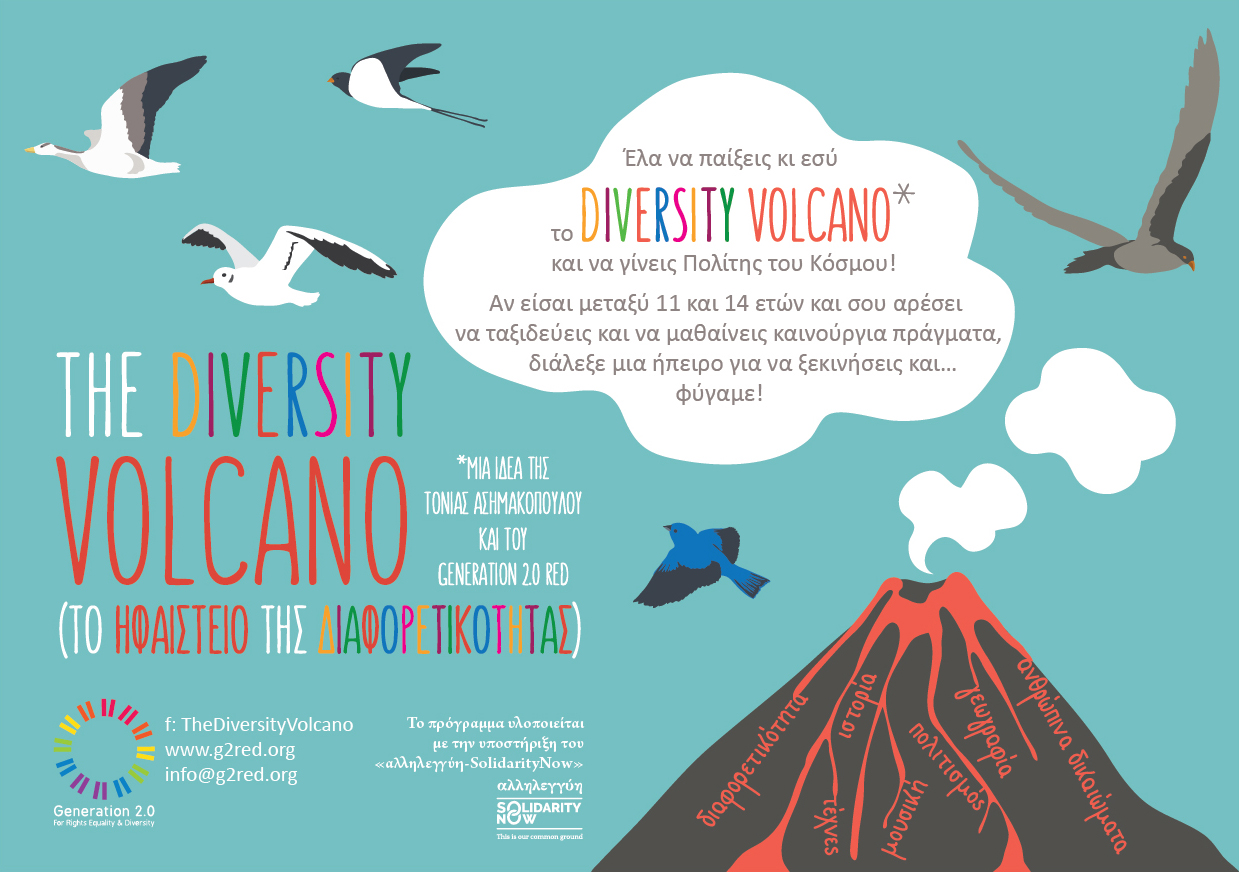 Through this creative and alternative education process, the students actively participate, learn and recognize diverse cultures, countries and traditions, and are sensitized on human rights and discrimination issues. In an era where accepting the "Other" is more important than ever, both within the school environment and outside, this game comes to cultivate feelings of tolerance, acceptance and solidarity.
The facilitators are trained instructors and the game experience lasts for two hours, where they have the exclusive supervision and guidance of children. One hour is the duration of the game and the next hour is dedicated in discussion. Playing Diversity Volcano is free of charge and can take place at your school, a children's library or at our premises.
Our Volcano travels along schools in Greece for many years now, receiving positive feedback from kids and teachers who played the game!
See more photos of the game here!
If you want to play the Diversity Volcano Game or want some more information about the process, you can contact us Monday to Thursday, from 10:00 to 17:00, on the phone 2130884499. The Generation 2.0 RED team is always at your disposal.