Angela Davis | More relevant than ever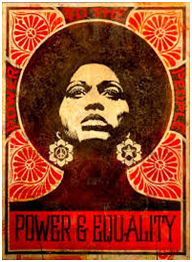 Written by Natalia Sotiropoulou
A few days ago, Angela Davis was the keynote speaker at the Pulantzas Institute in Athens, for the "Abolition Feminism: Theories & Practices of our Time" event. I don't think there is someone, anyone really, who could be more appropriate as a central speaker than a woman whose agenda has been around and relevant for almost fifty years.
For those who don't know Angela Davis, you can simply listen to the song "Black Angel" by the Rolling Stones. The lyrics are written in her name, her imprisonment and her staying in custody for 6 months, for her persistence of maintaining her beliefs and for her battle for equality of all.
One of the most important activists and academics, a human rights fighter, active member of the Black Panthers and a member of the Communist Party in America, prosecuted by the authorities since the very beginning for her actions and beliefs. She teaches at the University of California, among others, about feminism, critical theory, and has been actively engaged in the research on the American prison regime, since 1971. So far she has been actively involved in actions against racism and sexism.
Her agenda has always been about the issues of modern slavery, feminism and racism. None of these issues are foreign today. The scary thing is that they remain up to date, perhaps more relevant than ever. The shameful scenes of buying and selling human beings in Libya, the rise of right-wing movements and racist attacks around the world, the retention of women under the right of claiming equal rights (I cannot believe we still have to advocate this shit) bring Davis's work again in the foreground.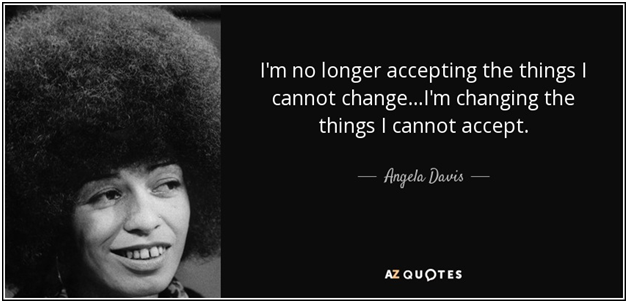 "We are still confronted with the challenge of understanding the complex ways in which race, social class, gender, sexuality and ethnicity are intertwined – and how to overcome these categorizations…", she said in an interview back in 2008. Despite the steps that have been taken forward to promote equality for all, regardless of color, origin, religion, gender and sexual orientation, there is still a long way to go before we can sit back and enjoy the obvious. And the obvious thing is that everyone should have equal treatment, equal opportunities, with elimination of all sorts of discrimination for whatever reason, in order to be truly free in a truly free society.
---
For those who did not have the chance to listen live her speach, you can watch it here: