1st Job Fair Connecting Refugees and Migrants with the Labor Market in Athens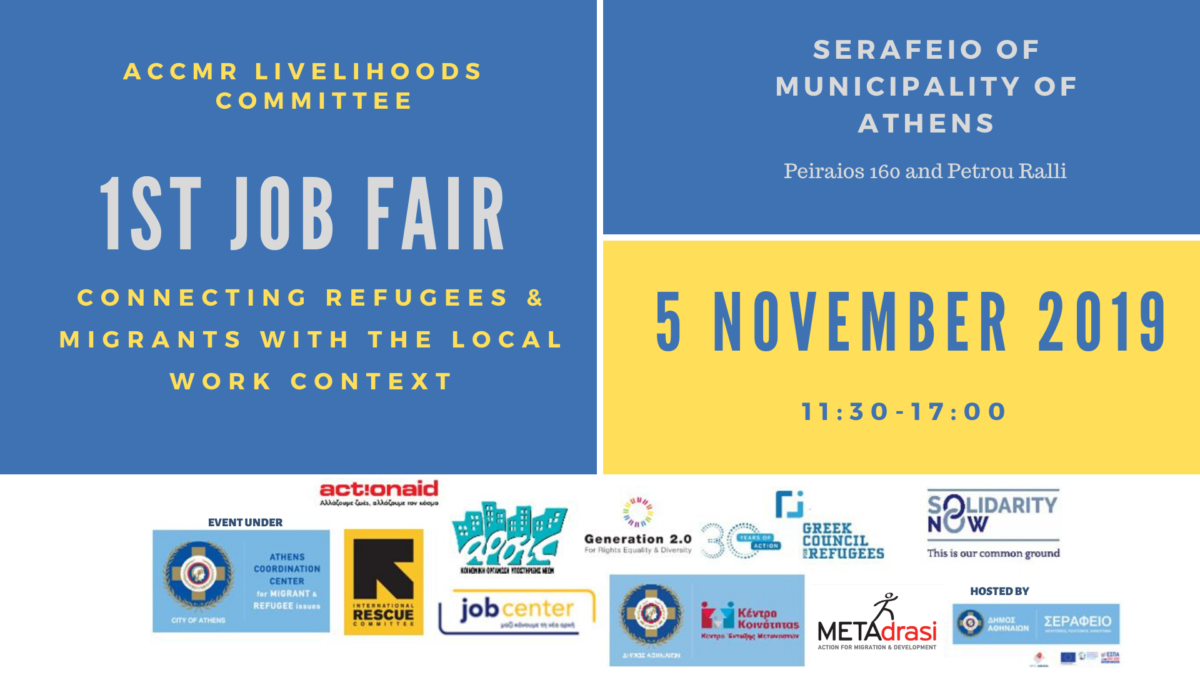 The 1st Job Fair for candidates with refugee or migrant background will be organized by the Livelihoods Committee on Tuesday 5 November, at Serafio of the City of Athens from 11:30 to 17:00. The event is going to take place with the participation of companies and organizations from various sectors of the Greek economy, wishing to meet candidates of different professional backgrounds and explore job and collaboration opportunities.
The objective of the Job Fair is to create an open space for networking and communication between the private sector and prospective employees, appropriately prepared for the Greek labor market, thereby facilitating equal access to it.
The Job Fair is an initiative of the Livelihoods and Economic Empowerment Committee of the Athens Coordination Center for Migrant and Refugee issues (ACCMR) and is co-organized by ActionAid-Epikentro, ARSIS-Association for the Social Support of Youth, Generation 2.0 for Rights, Equality & Diversity, Greek Council for Refugees, International Rescue Committee (IRC Hellas), the Job Center of the City of Athens, the Migrant Integration Center of the City of Athens, Metadrasi-Action for Migration & Development, and Solidarity Now.
If you are interested in participating as a company or organization, please register here by October 29th.
Serafio of the City of Athens: Pireos & Petrou Ralli, November 5th from 11:30 until 17:00.
For more information, please contact us via email: [email protected] or via tel: 6941618410.