Thursday Job Adverts – Various Fields – 16/11/2023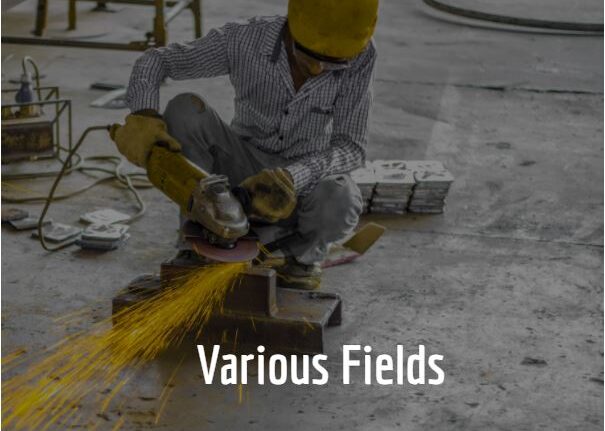 Here you can find job ads, such as for salesmen, warehouse employees, technicians and many more.
Σχεδιαστής/στρια – Πωλητής/τρια Επίπλων – Άγιος Δημήτριος Αττικής-
Απαραίτητα Προσόντα:
Προϋπηρεσία στον σχεδιασμό κουζίνας & ντουλάπας
Εξοικείωση με τα υλικά που αφορούν την ξυλεία
Καλό χειρισμό σχεδιαστικών προγραμμάτων: Eστία, Fusion, Sketch Up, AutoCAD, Spazio 3D
Καλή γνώση Microsoft Office
Ευχέρεια στην επικοινωνία (προφορική & γραπτή) και έμφαση στην εξυπηρέτηση με πελατοκεντρική προσέγγιση
Ικανότητα αποτελεσματικής διαχείρισης χρόνου
---
Arabic-Speaking Video and Motion Graphics Designer – Cyprus, Greece or Remote
Main requirements
Degree in Motions Graphic, Motion Design, Media Communications, Animation, or any other relevant field
At least 2 years of experience in a similar position
Portfolio of completed motion graphic projects (Only applications accompanied by a relevant work portfolio will be taken into consideration.)
Extensive experience in Adobe Creative Suite: primarily After Effects, Premier Pro, Photoshop, and Illustrator
Working knowledge of the following audio tools: Adobe Audition and Audacity
Very good knowledge of Arabic and English
Strong aesthetics and motion design skills
Strong technology and social media acumen
Strong video editing, motion graphics and sound skills
Good time-management and communication skills
Ability to work well in a team as well as independently.
Please visit our website to submit your online application for this position.
---
Graphic Designer – Αττική (Βόρεια Προάστια)
Απαιτούμενα προσόντα:
Δίπλωμα γραφιστικής
Άριστη και επίκαιρη γνώση όλων των λογισμικών του χώρου όπως Photoshop, InDesign, Illustrator
Πολύ καλή γνώση MS-Office
Ικανότητα ομαδικής εργασίας
Ικανότητα αποτελεσματικής επικοινωνίας
Ικανότητα εργασίας κάτω από απαιτητικές συνθήκες
Προϋπηρεσία σε κλάδο λιανικής / καταναλωτικών προϊόντων θα εκτιμηθεί
Πολύ καλή γνώση Αγγλικών
Graphic Designer
Main requirements
Diploma in Graphic Design
Excellent knowledge of all relevant software like Photoshop, InDesign, Illustrator
Excellent knowledge of MS-Office
Strong sense of team spirit
Strong communication skills
Ability to work under pressure
Retail work experience will be consider a plus
Excellent knowledge of English
---
Βιομηχανικός Σχεδιαστής
Απαραίτητα προσόντα
Πτυχίο πανεπιστημίου ή κολεγίου Βιομηχανικού Σχεδιαστή
Πολύ καλή γνώση σχεδιαστικών προγραμμάτων (Fusion, Keyshot, 3ds Max, AutoCAD, CorelDraw κ.ά.)
Καλή γνώση της ελληνικής και αγγλικής γλώσσας
Καλός προγραμματισμός, οργανωτικές δεξιότητες και ομαδικό πνεύμα
Υψηλή αισθητική και αυξημένη αντίληψη
Προϋπηρεσία σε αντίστοιχη θέση
---
Secure Supply Chain/ Key Account Specialist 
What we look for:
Bachelor's degree in Business, Engineering, or a relevant field; advanced degree preferred
At least 3 years of successful history in similar positions (in a B2B environment working in the security sector or supply chain)
Knowledge and experience in the Supply Chain industry, including familiarity with domains like fleet management, connected vehicles, and telematics is a strong plus
Ability to travel to customer sites abroad (20% traveling time)
Excellent analytical abilities, with a data-driven approach to decision-making
Exceptional communication and interpersonal skills, with the ability to engage and influence stakeholders at all levels
Full proficiency in English. Other EU languages are an advantage
---
Αποθηκάριος Κατάψυξης
Απαραίτητα Προσόντα
Προϋπηρεσία τουλάχιστον 1 έτος σε μηχανογραφημένη αποθήκη
Γνώση χειρισμού RF Scanner
Γνώση χειρισμού ηλεκτρικού παλετοφόρου / BT
Συνέπεια κατά την εκτέλεση της εργασίας
Κάτοχος μεταφορικού μέσου
Εκπληρωμένες στρατιωτικές υποχρεώσεις
Καλή επικοινωνία και ομαδικό πνεύμα εργασίας
Refrigerated warehouse (Cold store) clerk
Main requirements
Previous experience in computerized warehouse management systems
Ability to use RF Scanner
Ability to use electric pallet truck / BT
Consistency
Vehicle owner
Good communicational skills and team work spirit.
---
Χειριστής Reach Truck
Απαραίτητα προσόντα
Προϋπηρεσία τουλάχιστον 2 έτη σε μηχανογραφημένη αποθήκη
Γνώση χειρισμού RF Scanner
Γνώση χειρισμού ηλεκτρικού κλαρκ
Εργασία σε βάρδιες, πρωί – απόγευμα
Απόφοιτος δευτεροβάθμιας εκπαίδευσης
Συνέπεια κατά την εκτέλεση της εργασίας
Κάτοχος μεταφορικού μέσου
Εκπληρωμένες στρατιωτικές υποχρεώσεις
Καλή επικοινωνία και ομαδικό πνεύμα εργασίας
Reach Truck Operator
Main requirements
At least two years of previous experience in computerized warehouse management systems
Ability to use RF Scanner
Ability to use electric pallet truck
Rotating shifts
Secondary school graduate
Consistency
Vehicle owner
Good communicational skills and team work spirit.
---
Public Sector Presales Assistant for Consulting and Training Firm – Αργυρούπολη 
Απαραίτητα προσόντα
Πτυχίο Επιχειρήσεων, Μάρκετινγκ, Δημόσιας Διοίκησης ή σε σχετικό τομέα
1-3 χρόνια εμπειρίας σε presales, επιχειρηματική ανάπτυξη ή συναφή ρόλο, κατά προτίμηση στον δημόσιο τομέα, ή σε εταιρία συμβούλων
Ισχυρή κατανόηση των λειτουργιών και των προκλήσεων του δημόσιου τομέα
Εξαιρετικές επικοινωνιακές και διαπροσωπικές δεξιότητες
Άριστη γνώση συστημάτων CRM και MS Office (ειδικά PowerPoint και Excel)
Δυνατότητα πολλαπλών εργασιών και εργασίας σε ένα περιβάλλον με γρήγορους ρυθμούς
Ισχυρές δεξιότητες ανάλυσης και επίλυσης προβλημάτων
Βιογραφικό στα ελληνικά και αγγλικά
---
Marketing & Communications Coordinator
Skills & expertise:
Minimum of 1-2 years of relevant experience, preferably in a luxury setting within the Hospitality industry
Α Bachelor's degree in Marketing, Digital Marketing, Communications, Public Relations, or relevant field
Excellent command of the English language
Proficiency in Microsoft Office suite
Previous experience in handling and understanding of social media platforms and campaign management tools such as Facebook Ads and Google Ads
Strong administrative and organizational skills to efficiently coordinate multiple projects
Effective prioritization and time management
Ability to travel for scheduled trips, to Santorini and/or Paros islands during the summer season
---
Process Technicians
Who we're looking for
Technical academic background, Department of Mechanical Engineering/Automation/Electrical Engineering or equivalent
Previous working experience in industrial environment will be considered a plus
Passionate individuals who yearn for challenges, continuous learning and growth opportunities
Fluency in English (verbal & written)
Completed Military obligations (if applicable)
Kindly submit your CV in English
---
Προϊστάμενος Συντήρησης
Οι υποψήφιοι θα πρέπει να έχουν:
Πτυχίο ΤΕΙ Ηλεκτρολόγου – Μηχανικού ή απόφοιτος τουλάχιστον μέσης τεχνικής σχολής με εμπειρία σε αντίστοιχη θέση ξενοδοχείου
Άριστη γνώση Αγγλικής
Άριστη χρήση Η/Υ
Ανάλογη προϋπηρεσία σε ξενοδοχεία 4 και 5 αστέρων
Επικοινωνιακές και οργανωτικές δεξιότητες
Ικανότητα στην επίτευξη οικονομικών και ποιοτικών στόχων
Γνώση διαχείρισης συστημάτων ISO και HACCP
Οι ενδιαφερόμενοι μπορούν να στείλουν το βιογραφικό τους με μια φωτογραφία στο e-mail
του ξενοδοχείου ή να συμπληρώσουν μια αίτηση εντός του ξενοδοχείου καθημερινά 10.00-13.00.
4ο χλμ. Λ. Ρόδου-Καλλιθέας
Τ. 22410 67067, Φ. 22410 67062
---
Βοηθός Ηλεκτρολόγου
Απαραίτητα προσόντα
Απόφοιτος ΕΠΑ.Λ./ ΙΕΚ σε κλάδο τεχνολογικής κατεύθυνσης
Προϋπηρεσία σε on-site εγκαταστάσεις είναι επιθυμητή αλλά όχι απαραίτητη.
Πιστοποιήσεις καλωδίωσης οπτικών ινών ή χαλκού θα θεωρηθούν επιπλέον προσόν.
Κάτοχος άδειας οδήγησης αυτοκινήτου
Εκπληρωμένες στρατιωτικές υποχρεώσεις (για τους άνδρες υποψηφίους)
Ικανότητα ολοκλήρωσης πλάνου εργασιών σε συγκεκριμένους χρόνους
Ομαδικότητα, επικοινωνία και εξυπηρέτηση του πελάτη
---
Υπάλληλο Καθαριότητας και Γενικών Καθηκόντων (Βόρεια και Νότια Προάστια)
Απαιτούμενα προσόντα
Προϋπηρεσία
Επαγγελματική συμπεριφορά
Cleaner and general duties clerk
Main requirements
Previous experience
Professionalism
---
Οδοκαθαριστές/ριες – Δήμος Μελισσίων-Πεντέλη
Βαρέα ένσημα
Νόμιμες αποδοχές
Άμεση πρόσληψη
Δευτέρα – Παρασκευή 07:00-13:00.
Τηλ. επικοινωνίας: 210 2711067
Street cleaner
Monday to Friday 07:00-13:00.
Phone number: 210 2711067
---
Χειριστής Μηχανών Συσκευασίας
Επιθυμητά προσόντα
Προηγούμενη εμπειρία σε γραμμή παραγωγής βιομηχανίας, κατά προτίμηση στον κλάδο τροφίμων
Γνώση χειρισμού μηχανών flow pack και Italian pack θα θεωρηθεί επιπρόσθετο προσόν.
Ομαδικότητα, υπευθυνότητα, συνέπεια και προσοχή στη λεπτομέρεια
Δυνατότητα εργασίας σε πρόγραμμα με κυλιόμενες βάρδιες
Κάτοχος πιστοποιητικού υγείας σε ισχύ
Packaging machine operator
Main requirements
Previous experience as a production line worker, especially in food industry
Knowledge of use of low pack and Italian pack machines, will be consider as a plus.
Team work spirit, responsibility, consistency and attention to the detail.
Ability of working in rotating shifts
Valid health certification
---
IT Support Engineer – Paiania
The successful candidate should have:
At least 3 years of proven experience in L1 & L2 support.
Good knowledge and understanding of Microsoft Active Directory and services (DNS – DHCP).
Experience in Antivirus and Antispam Software.
Having experience on IP Telephony with call manager.
Understanding basic principles of networking.
Being able to understand dsl and telephony issues in order to communicate them to vendors.
Very good communication skills and team player.​​
---
Senior and Mid-Level C# Developers
Mandatory skills
Experience in OOP
Experience working with C#  (4+ years for mid-level and 8+ years for senior developers)
Experience working with WPF or Win Forms
Experience working with at least one of WCF, Rest Web Api or Soap
Experience in testing frameworks
---
Full Stack Developer
Mandatory skills
Working experience in building web applications based on web api and microservices (2+ years)
Experience in .NET and .NET Core (2+ years)
Experience in building applications with React or other JS frameworks
Experience in JavaScript (ES5/6), CSS, HTML
Experience in testing frameworks
---
Corporate Account Executive Manager (Tourism Industry) 
Main requirements
Proven Work experience in a managerial position in this sector
Team Spirit with at least 3 years of experience in this particular field
Effectively manage corporate customers , domestic and international travel , providing top managerial skills within an exceptional way of approach
Fluency in English ( extra language ) will be settled as an asset
Excellent Knowledge of SABRE , Amadeus & Farelogic Platform airline systems and GDS`s
Knowledge of MS Office applications
After office hours working availability
---
Reservations Executive
Skills & expertise:
At least 2 years' experience as a Reservations Agent or Executive in a multi property environment or an International Hotel Chain
Ability to communicate fluently (written & oral) in both Greek and English language.
Excellent knowledge of hotel technology: PMS (Opera, Fidelio), Channel Manager, Extranets
Excellent knowledge of Microsoft Office Suite (especially Excel)
---
Operations Specialist (Tourism Industry) 
Basic Requirements:
Fast learner with an ambition for professional growth
Team player mentality
Passion for hospitality
Strong Organizational skills & result-oriented
Attention to detail
Good command of English (both oral and written)
Map reading & planning skills
MS Office literacy
Personal experience in travel!
---
Τεχνίτες και Βοηθοί Επισκευών (Μηχανικοί) Μηχανημάτων & Ανυψωτικών
Απαραίτητα προσόντα
Απόφοιτοι τεχνικής σχολής ή με τουλάχιστον διετή εμπειρία
Δίπλωμα οδήγησης αυτοκινήτου
Εκπληρωμένες στρατιωτικές υποχρεώσεις ή απαλλακτικό στρατού
Υπευθυνότητα και συνέπεια
Technicians and Repair Assistants (Engineers) of machinery and lifting machines.
Main requirements
Technical school graduate or at least two years of work experience.
Car drive license
Responsibility and consistency
---
Process Technicians
Who we're looking for
Technical academic background, Department of Mechanical Engineering/Automation/Electrical Engineering or equivalent
Previous working experience in industrial environment will be considered a plus
Passionate individuals who yearn for challenges, continuous learning and growth opportunities
Fluency in English (verbal & written)
Completed Military obligations (if applicable)
Kindly submit your CV in English
---
Credit Clerk
Required Skills/Abilities:
Excellent organizational skills and attention to detail
Familiarity with accounting and financial principles is a plus
Excellent written and verbal communication skills.
Proficient in Microsoft Office