Thursday Job Adverts – Various Fields – 11/11/2021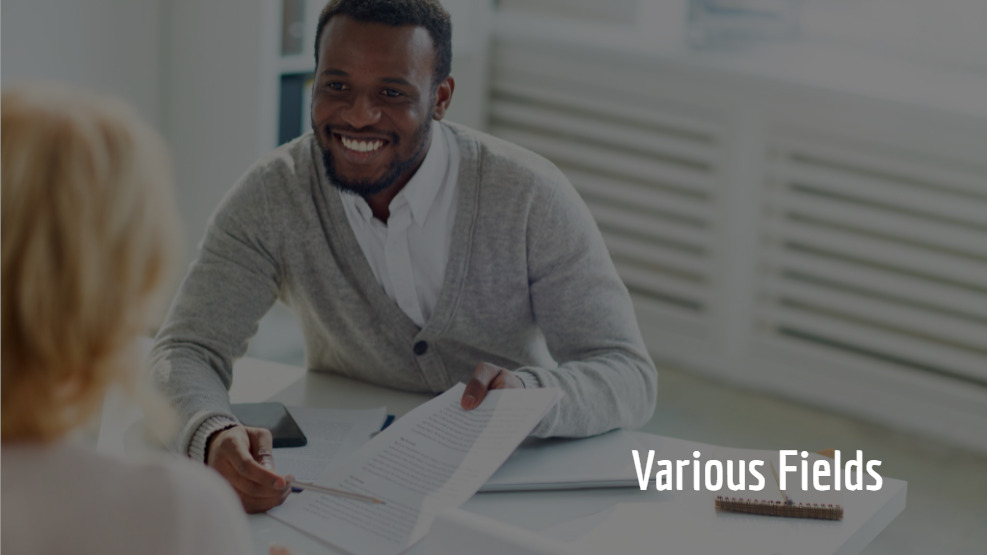 Υπάλληλος Καταστήματος – Βριλήσσια/Αεροδρόμιο (Part-time)
Προφίλ υποψηφίων:
Απόλυτος σεβασμός των κανόνων ασφαλείας
Απόφοιτοι ΙΕΚ/ΤΕΙ/ΑΕΙ
Επιθυμητή προϋπηρεσία σε αντίστοιχη θέση
Γνώση της αγγλικής γλώσσας
Βασική γνώση χειρισμού εφαρμογών MS Office
Ομαδικό πνεύμα συνεργασίας
Ευχάριστη προσωπικότητα
Άριστες οργανωτικές και επικοινωνιακές ικανότητες
Ικανότητα τήρησης χρονοδιαγραμμάτων και αξιολόγησης προτεραιοτήτων όταν αυτό απαιτείται
Πιστοποιητικό υγείας
---
Τμήμα εξυπηρέτησης πελατών στα Πολωνικά – Ταξιδιωτικός κλάδος
Requirements
Άριστη γνώση Πολωνικών
Εξαιρετική γνώση Αγγλικών
Εξοικείωση με την τεχνολογία
Προσαρμοστικότητα ~ Υπομονή ~ Επικοινωνιακές ικανότητες
Ευελιξία στο ωράριο: κυλιόμενο ωράριο
Προηγούμενη εμπειρία στον τομέα θα εκτιμηθεί
Διάθεση για εξέλιξη
---
Surveiller de contenu sur les réseaux sociaux
Requirements:
Pour que votre profil coïncide avec ce poste, vous devez posséder les compétences suivantes:
Parler un français parfait
Excellentes compétences en dactylographie
Parler couramment l'anglais
Fortes compétences interpersonnelles, de communication verbale et écrite et surtout faire preuve empathie
Passion pour internet et les médias sociaux
---
Τεχνίτης-Χειριστής εργαλειομηχανών
Handyman-Machine operator
---
Εργάτης
Απαραίτητα προσόντα:
Κάτοχος διπλώματος αυτοκινήτου
Worker
---
Χειριστής Περονοφόρου Οχήματος (Κλαρκ)
Απαραίτητα προσόντα:
Κατοχή άδειας χειριστή περονοφόρου
Εγγραφή στο Μητρώο Φορτοεκφορτωτών
Forklift operator
License
Registration to Dockers registry
---
Ανειδίκευτος Εργάτης – Κρυονέρι Αττικής
Απαραίτητα προσόντα:
Συνέπεια και εργατικότητα
Πνεύμα συνεργασίας
Εργασία υπό πίεση
Γνώσεις χειρισμού μηχανημάτων παραγωγής επιθυμητή
Unskilled worker-Krioneri
Punctual and hard-working
Team spirit
Work under pressure
Production machine operation skills (desired)
---
Τεχνίτης Δερμάτινων Ειδών – Χολαργός
Leather products craftsman-Holargos
---
Υπάλληλος Ταξινόμησης Εμπορευμάτων – Καλύβια Αττικής
Πτυχίο και προϋπηρεσία; Δεν είναι απαραίτητα.
Θέλουμε μόνο να αγαπάς το εμπόριο.
Αν βέβαια έχεις και σχετική εμπειρία σε αποθήκες ή logistics centers, μιλάμε για μεγάλο ταλέντο!
Η χειρωνακτική εργασία δεν σε τρομάζει, ξέρεις ότι θα χρειαστεί.
Το πρόγραμμά σου είναι ευέλικτο και ανοιχτό σε διαφορετικές βάρδιες με βάση πρόγραμμα που θα ξέρεις πολλές μέρες πριν.
Όλοι μιλάνε για την ευγένειά σου: μπορείς εύκολα να γίνεις το επόμενο αγαπημένο πρόσωπο της ομάδας.
Products' classification employee-Kapandriti
Degree and work experience are not necessary
You need to love commerce
If you have relevant experience in logistics centers or warehouse, then you are talented!
Manual work does not scare you; you know it will be needed
Your schedule is flexible and open to different shifts based on a schedule informed ahead
Everyone talks about your politeness: you can easily become the next favorite person of the team
---
Αποθηκάριος – Καπανδρίτι Αττικής
Απαραίτητα προσόντα:
Γνώση Η/Υ – MS Office
Απολυτήριο Λυκείου
Υπευθυνότητα, συνέπεια, ταχύτητα, αξιοπιστία
Γνώση χειρισμού ανυψωτικού μηχανήματος (επιθυμητή)
Στρατιωτικές υποχρεώσεις εκπληρωμένες για άντρες υποψήφιους
Warehouse man-Kapandriti
Computer skills-MS Office command
High school graduate
Responsibility, punctuality, speed, reliability
Forklift command (desired)
---
Picker / Υπάλληλος Αποθήκης – Ασπρόπυργος, Μαγούλα
Προφίλ υποψηφίου:
Απαραίτητη προϋπηρεσία σε μηχανογραφημένη αποθήκη (φορτώσεις / εκφορτώσεις, προετοιμασία παραγγελιών)
Εξαιρετική ικανότητα οργάνωσης και σχεδιασμού
Απόφοιτοι λυκείου ή μέσης εκπαίδευσης
Picker/Warehouse employee-Aspropyrgos
Work experience in an automated warehouse
Excellent organizational and programming skills
High school or Middle school graduates
---
Υπάλληλος Αποθήκης
Απαιτούμενα προσόντα:
Δίπλωμα οδήγησης
Εκπληρωμένες στρατιωτικές υποχρεώσεις
Συνέπεια, υπευθυνότητα, επαγγελματισμός, ευγένεια
Επιθυμητή εργασιακή εμπειρία σε αντίστοιχη θέση
Warehouse employee
Driving license
Punctuality, responsibility, professionalism and politeness
Work experience in relevant position
---
Αποθηκάριος / Οδηγός – Μαρούσι
Προσόντα:
Πολύ καλή γνώση Microsoft Office
Καλή γνώση αγγλικής γλώσσας
Δίπλωμα αυτοκινήτου και μηχανής άνω των 100cc
Συστημική διαχείριση αποθεμάτων, παραλαβών – επιστροφών και παραγγελιών
Ικανότητα εργασίας υπό πίεση σε απαιτητικό περιβάλλον
Warehouse employee-Driver-Maroussi
Very good command of Microsoft Office
Very good command of English
Motorbike and car driving license
Systemic management of stock and receipts-dispatches and orders
Ability to work under pressure
---
Συσκευαστής/τρια – Μάνδρα Αττικής
Απόφοιτοι τουλάχιστον υποχρεωτικής εκπαίδευσης
Προϋπηρεσία σε βιομηχανικό περιβάλλον θα συνεκτιμηθεί
Packager –Mandra
Mandatory education graduates
Work experience in industrial environment
---
Προσωπικό Καθαριότητας – Μεταμόρφωση
Απαραίτητα προσόντα:
Κάτοικοι περιοχής
Δυνατότητα εργασίας σε βάρδιες (πρωί-απόγευμα)
Εμπειρία σε καθαριότητα σε χώρους υγείας
Ομαδικό Πνεύμα, Αξιοπιστία, Υπευθυνότητα
Cleaning staff-Metamorfosi
Nearby residents
Ability work in shifts (morning-afternoon)
Cleaning experience in health sector
Team spirit, reliable, responsible
---
Cleaning Lady
The ideal candidates required to maximize and exceed guest's satisfaction by providing highly personalized, efficient and responsive service with attention to details, by anticipating guest's needs.
CV with a photo.
---
Air Charter Broker
Requirements:
Degree qualified with a good knowledge of the Aviation Industry will be considered an advantage.
ACMI – Aircraft, Crew, Maintenance & Insurance experience is required, and Operational, commercial and sales experience will be considered an advantage.
High degree of IT skills
Have strong English language skills
Have good communication and negotiation skills both written and verbal.
---
Graphic designer – Athens
Experience, Skills and Qualifications:
University or College degree.
Minimum (3) years' experience.
Fluent in English, with excellent oral and written communication skills.
Must have advanced skills in Adobe Creative Suite (Photoshop, InDesign, and Illustrator).
Must be proficient in Microsoft Office and become familiar with our project-management software (Asana) quickly.
The position includes the above but is not limited to these areas of concentration.
---
Πατρονίστ
Απαιτούμενα προσόντα:
Τουλάχιστον 2 χρόνια εργασιακής εμπειρίας ως πατρονίστ σε εταιρία ένδυσης
Άριστη γνώση δημιουργίας πατρον σε σχεδιαστικά προγράμματα
Πολύ καλή Adobe Illustrator
Πολύ καλή γνώση MS Office
Πολύ καλές επικοινωνιακές δεξιότητες
Ικανότητα ανάπτυξης και διατήρησης καλών διαπροσωπικών επαγγελματικών σχέσεων
Ομαδικό πνεύμα εργασίας
Pattern maker
At least 2 years of work experience in clothing company
Excellent command of design programs for pattern making
Very good command of Adobe Illustrator
Very good command of MS Office
Very good communicational skills
Ability to create good interpersonal professional relationships
Team spirit
---
Προσωπικό για Λάντζα (Λαντζέρης/α)
Προσόντα:
Εργασιακή εμπειρία τουλάχιστον 2 ετών σε αντίστοιχη θέση, κατά προτίμηση σε ξενοδοχείο, εστιατόριο ή νοσοκομείο
Ικανότητες επικοινωνίας, συνεργασίας, οργάνωσης και διαχείρισης χρόνου
Ομαδικότητα, υπευθυνότητα, συνέπεια και προσοχή στη λεπτομέρεια
Δυνατότητα εργασίας σε κυλιόμενο ωράριο
Κάτοχος διπλώματος οδήγησης
Κάτοχος πιστοποιητικού υγείας σε ισχύ
Dishwashing staff
Work experience of at least 2 years in relevant position and preferably at a hotel, restaurant or hospital
Communicational, organizational and time management skills
Team spirit, responsibility and attention to detail
Ability to work in rotating shifts
Driving license
Health certificate
---
Τραπεζοκόμοι Νοσοκομειακού Κλάδου
Προσόντα:
Απαραίτητη προϋπόθεση η προϋπηρεσία σε αντίστοιχη θέση και κλάδο
Κάτοχος πτυχίου Νοσηλευτικής, Βρεφοκομίας ή συναφών ειδικοτήτων θα θεωρηθεί επιπρόσθετο προσόν
Ικανότητες επικοινωνίας, συνεργασίας, οργάνωσης και διαχείρισης χρόνου
Ομαδικότητα, υπευθυνότητα, συνέπεια και προσοχή στη λεπτομέρεια
Δυνατότητα εργασίας σε κυλιόμενο ωράριο
Κάτοχος πιστοποιητικού υγείας σε ισχύ
Waiters/Waitresses for Health sector
Work experience in relevant position and sector is a must
Nursing, or relevant specialization degree will be an asset
Communicational, organizational and time management skills
Team spirit, responsibility and attention to detail
Ability to work in rotating shifts
Health certificate
---
Βοηθητικό Προσωπικό Κουζίνας (Μεριδοποίηση / Κρύα Κουζίνα)
Kitchen staff (Cold dishes/portioning)
---
UI/UX Designer – Athens
Profiles Required:
Minimum 3-4 years of working experience in Web and Mobile applications
Strong capability in UI and UX design for Android or iOS
Degree in Computer Science or relative field
Smooth communication in both Greek and English
Be a team player, willing to learn and adapt to project procedures and timeline
---
Full Stack Developer – Athens
Profiles Required:
Minimum 2-4 years of working experience as a full stack developer
Skilled in Java or .NET
Experience in Angular 2+
Good to have: Experience in Spring
Degree in Computer Science, Mathematics or similar
Smooth communication in Greek and English
Be a team player, willing to learn new technologies and adapt to project procedures and timeline
---
Back End Developer (online gaming)
The successful Back end developer  will have the following skills:
Bachelors degree in computer science or 2 years of professional experience using .NET Framework
Strong understanding of object-oriented programming
C# .NET development experience and knowledge of the .Net ecosystem
Building RESTful APIs with ASP.NET (or similar technologies)
Building applications and services using C# and .NET framework
Proficiency with SQL and its variations
Strong Web debugging skills (intercepting and modifying web traffic)
Building applications and services using C# and .NET framework
Familiar with various design and architectural patterns Familiar with web debugging tool-kits
Version Control Systems (git preferred) Familiarity with Agile methodologies
---
Εργάτες/τριες Παραγωγής – Κηφισιά, Βόρεια Προάστια
Προφίλ υποψηφίων:
Απόφοιτοι λυκείου
Επιθυμητή προϋπηρεσία σε αντίστοιχη θέση
Δυνατότητα εργασίας σε 2 βάρδιες
Εργατικότητα και συνέπεια
Επαγγελματισμός και ομαδικότητα
Production workers –Kifissia
High school graduates
Work experience in relevant position is desired
Ability to work in 2 shifts
Hard-working and punctual
Professional and team spirit
---
Συσκευαστές-τριες – Άλιμος
Προσόντα:
Προϋπηρεσία σε γραμμή παραγωγής βιομηχανίας στον κλάδο των τροφίμων (επιθυμητό)
Κάτοχοι πιστοποιητικού υγείας σε ισχύ
Κάτοχοι Ι.Χ. (επιθυμητό)
Κάτοικοι κοντινών περιοχών (επιθυμητό)
Packagers –Alimos
Work experience in Food industrial production line
Health certificate
Owner of a car (desired)
Residents of nearby area (desired)