Thursday Job Adverts-Various Fields-09/12/2021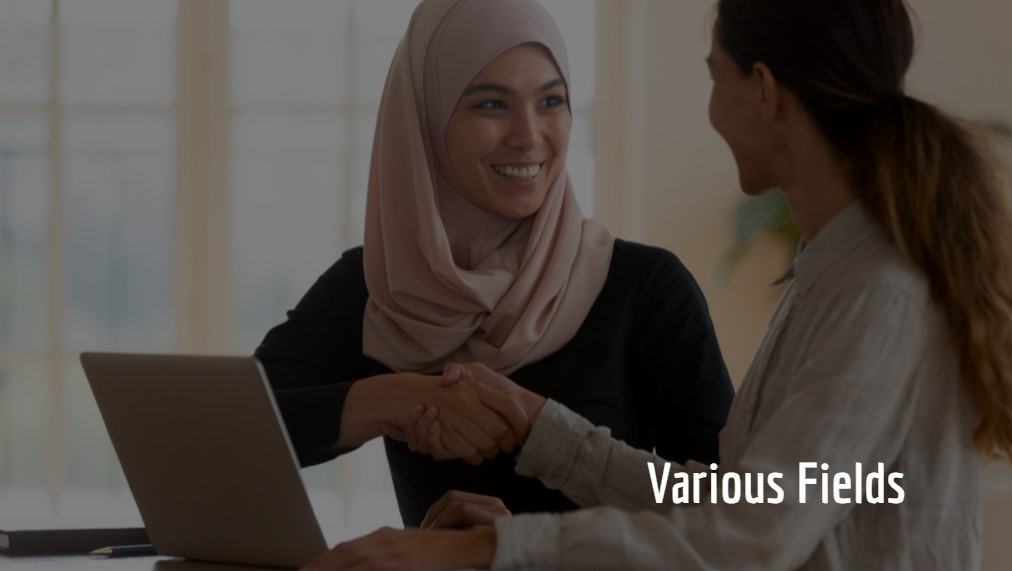 Digital Skills Trainer – Athens
REQUIREMENTS:
Bachelor's degree is preferred;
Experience with education and/or digital skills programming;
Previous experience working with vulnerable populations preferred;
Strong communication skills in English (written and spoken) mandatory and fluency in Farsi, French or other languages of the local population is strongly preferred;
Excellent verbal and written communication skills;
Proficient in general office software programs e.g. MS Office suite, email, internet applications etc.
Proven ability to work as a team member in a cross-cultural environment;
Detail oriented with excellent organizational skills, ability to multi-task and complete work in fast-paced environment;
Flexibility, openness to other and cultural awareness.
---
Marketing Assistant 
Requirements:
University degree in Marketing, Business, or related field preferred
1-3 years of experience in marketing
Excellent written and verbal communication skills
A high level of attention to detail
Strong copywriting skills
Fluent in English (oral & written communication)
Ability to work effectively within a team and independently
Superior organizational and time management skills
Knowledge of relevant marketing tools and applications is a plus
---
Βοηθοί Χειριστών Γερανοφόρων Οχημάτων
Επιθυμητή η γνώση αγγλικών
Truck crane Assistant Operator
Command of English is desired
---
Εργάτες -Ασπρόπυργος
για μόνιμη πρωινή πλήρη απασχόληση
Workers-Aspropyrgos
For morning full time employment
---
Χειριστής Επίπεδης Κοπτικής μηχανής φύλλων χαρτιού (flatbed cutting machine)
Απαραίτητα στοιχεία:
Ομαδικό πνεύμα εργασίας
Πειθαρχία
Υπευθυνότητα
Διάθεση για επαγγελματική εξέλιξη
Flatbed cutting machine operator
Team spirit
Discipline
Responsibility
Willing to develop
---
Υπάλληλος Αποθήκης
Προφίλ Υποψηφίου:
Προϋπηρεσία τουλάχιστον ενός έτους σε ανάλογη θέση
Γνώση Αγγλική Γλώσσας
Επιθυμητή γνώση Η/Υ
Θα εκτιμηθούν επιπλέον τεχνικές και υδραυλικές γνώσεις
Warehouse employee
Work experience of at least 1 year in relevant position
English command
Computer command is desired
Plumbing and technical skills will be an asset
---
Αποθηκάριος – (Ασπρόπυργος)
Συνέχισε να διαβάζεις την αγγελία μας εάν:
Έχεις εμπειρία αποθηκάριου σε μηχανογραφημένη αποθήκη με χρήση RF Scanner
Ψάχνεις να δουλέψεις σε μια μεγάλη εταιρεία, με ιστορία και συνεχή ανάπτυξη
Αγαπάς την ομαδική δουλειά και το να συνεισφέρεις στην επιτυχία της ομάδας
Σ' αρέσει να μαθαίνεις καινούργια πράγματα και να εξελίσσεσαι
Θεωρείς σημαντικό το καλό εργασιακό κλίμα
Warehouse employee – Aspropyrgos
Keep reading if:
You have experience in an automated warehouse using RF Scanner
You seek to work in a big company with a history and continuous development
You love team-work and contributing in a team's success
You love learning new things and self-development
You consider as important a good work environment
---
Υπάλληλος Αποθήκης (picking) – Κηφισιά
O Ιδανικός Υπάλληλος Διαλογής έχει:
Επιθυμητή προϋπηρεσία σε ανάλογη θέση στο τμήμα της αποθήκης και σε βοηθητικές εργασίες
Όρεξη για εργασία και ομαδικό πνεύμα
Ταχύτητα
Warehouse employee (picking) – Kifissia
The ideal candidate:
Work experience in relevant position in warehouse and general duties
Team spirit and hard-working
Speed
---
Εργάτης Αποθήκης – Ριτσώνα
Απαιτούμενα προσόντα για τη θέση:
Απόφοιτος δευτεροβάθμιας εκπαίδευσης
Κάτοικος της ευρύτερης περιοχής της Ριτσώνας (Χαλκίδα – Θήβα – Σχηματάρι)
Κάτοχος μεταφορικού μέσου και διπλώματος Β' κατηγορίας
Συνεπής, συνεργάσιμος, επικοινωνιακός
Warehouse worker – Ritsona
High or junior high school graduate
Resident of nearby area (Chalkid-Thiva-Shimatari)
B category driving license and owner of a vehicle
Punctual, team spirit and communicational
---
Πατρονίστ (freelancer)
3ετή τουλάχιστον εμπειρία σε σχετική θέση (θα θεωρηθεί πρόσθετοπροσόν η εμπειρία στοπαιδικό ρούχο)
Γνώση συστήματος Lectra (Modaris & Diamino)
Αναζήτηση και σχεδιασμός νέων σχεδίων
Καλή γνώση αγγλικών στον γραπτό και τον προφορικό λόγο
Pattern-maker (freelancer)
3-year work experience in relevant position (will be an asset or the experience in children's clothes)
Lectra (Modaris & Diamino) command
Research and making of new designs
Good command of English in written and verbal
---
Graphic designer – Athens
ExperienceSkills and Qualifications:
University or College degree.
Minimum (3) years' experience.
Fluent in English, with excellent oral and written communication skills.
Must have advanced skills in Adobe Creative Suite (Photoshop, InDesign, and Illustrator).
Must be proficient in Microsoft Office and become familiar with our project-management software (Asana) quickly.
---
Προσωπικό για Καθαριότητα & Λάντζα – Αυλώνα
Επιθυμητά προσόντα:
Εργασιακή εμπειρία τουλάχιστον 2 ετών σε αντίστοιχη θέση, κατά προτίμηση σε εστιατόριο, ξενοδοχείο
Ικανότητες επικοινωνίας, συνεργασίας, οργάνωσης και διαχείρισης χρόνου
Ομαδικότητα, υπευθυνότητα, συνέπεια και προσοχή στη λεπτομέρεια
Καλή γνώση αγγλικών
Δυνατότητα εργασίας σε κυλιόμενο ωράριο
Κάτοχος διπλώματος οδήγησης
Κάτοχος πιστοποιητικού υγείας σε ισχύ
Dishwashing and cleaning personnel-Avlonas
Desired:
Work experience of at least 2 years in a relevant position, preferably at a restaurant/hotel
Communication, organizational and time management skills and team spirit
Good command of English
Ability to work in rotating shifts
Driving license
Valid health certificate
---
Βοηθός Χειριστή Περανοφόρου Οχήματος (Μάνδρα Αττικής)
Προφίλ Υποψηφίου:
Απόφοιτος Λυκείου
Απαραίτητη προϋπηρεσία σε αντίστοιχη θέση
Δυνατότητα εργασίας σε βάρδιες
Άριστες επικοινωνιακές δεξιότητες
Ταχύτητα, αντίληψη και οξυδέρκεια
Άριστες οργανωτικές ικανότητες
Ομαδικότητα και συνεργασία
Forklift truck Assistant
Profile:
High school graduate
Work experience in relevant position is a must
Ability to work in shifts
Excellent communication skills
Speed and intelligence
Excellent organizational skills
Team spirit
---
Συνοδηγός – Μαγούλα
Τι αναζητούμε;
Επικέντρωση στην εξυπηρέτηση του πελάτη
Πάθος για την τεχνολογία
Εστίαση στην επίτευξη απαιτητικών στόχων
Ομαδικό πνεύμα
Δίψα για εκπαίδευση και ανάπτυξη
Και παράλληλα:
Πτυχίο Λυκείου/ΑΕΙ/ΤΕΙ/ΙΕΚ
Επιθυμητή προϋπηρεσία σε αντίστοιχη θέση
Co-driver– Μagoula
Attention to detail
Passion for technology
Results-oriented
Team spirit
Eager to learn
And
High school or Bachelor's or Technical school degree
Work experience in relevant position
---
Offshore Engineer (Safety function, Oil & Gas industry)
Candidate Profile
University degree in Engineering (Chemical, Mechanical, Petroleum, Geological, Mining)
Postgraduate degree and specialization in Petroleum, Well or Drilling Engineering will be considered as an asset
Five (5) years of working experience in the Health and safety function within the Oil & Gas industry (ideally in offshore sector) or in a large Chemical Industry
Knowledge of Oil & Gas industry safety standards and best practices or knowledge of TheSeveso-III-Directive (2012/18/EU) depending the relevant working experience
Understanding of risk assessment principles and experience in risk assessment development in the Energy sector and/ or in Offshore installations
Solid knowledge of Law 4409/2016 or directive 2013/30/EU
Any industry accepted certification (e.g. IWCF, OPITO, PMP, IMO ) will be considered a plus
Fluency in Greek and English language (both in written and verbal communication)
Excellent knowledge of MS Office
Excellent presentation skills
Ability to work effectively in a team
---
Junior Communications Specialist (English)
Requirements:
Fluent in English
First class written and verbal communications skills
Skills within communications disciplines, such as publishing, social media, content writing would be beneficial
Drive and self-motivation
Commercial, methodical and strategic perception
High sense of responsibility and emphasis on detail
Team spirit, undertaking of initiatives and innovative thinking
Excellent analytical and organizational skills
Social networking skills
MS Office
---
Παρασκευαστής Α Υλών
Απαραίτητα προσόντα:
Προϋπηρεσία (θεώρειται επιπλέον προσόν)
Διοικητικές και οργανωτικές ικανότητες
Καλή γνώση της αγγλικής γλώσσας
Χρήση Η/Υ
Raw material manufacturer
Essential skills:
Work experience will be an asset
Organisational and managerial skills
Διοικητικές και οργανωτικές ικανότητες
Good command of English
Computer command
---
Εργάτης / Εργάτρια Παραγωγής
Απαραίτητα προσόντα:
Απολυτήριο λυκείου ή ισοδύναμο
Αντίληψη κανόνων ασφαλείας και αυστηρή τήρηση αυτών
Εργατικός με ομαδικό πνεύμα
Προυπηρεσία σε παραγωγή πλαστικών θα συνεκτιμηθεί
Production worker
High school or equivalent diploma
Safety and hygiene knowledge and strict compliance
Hard-working and team spirit
Work experience in plastics production will be an asset
---
Πατρονίστ – σχεδιάστρια
μεγάλη εμπειρία σε σχεδιαστικό τμήμα,
θα ληφθεί υπόψη προηγούμενη εμπειρία σε μεγάλα μεγέθη
Tηλ: 210/5746096
Pattern maker-designer
Long work experience in design department
Previous experience with big sizes will be an asset.
Τel: 210/5746096
---
 Βοηθός κοπτηρίου
Απαραίτητη η όρεξη για εκμάθηση και εργασία.
Τηλεφωνική επικοινωνία καθημερινά 09:00 εως 15:00
Τηλ.: 6936/898094
Cutting assistant
Hard-working and eager to learn
Communication daily from 9.00-15.00
Tel: 6936/898094
---
Εργάτης ή εργάτρια για το συσκευαστήριο
αμοιβή 1€, πλήρης απασχόληση, ορισμένου χρόνου,
https://www.facebook.com/manitus.gr
Worker for packaging
1 euro wage, full time, fixed term,
https://www.facebook.com/manitus.gr