Thursday Job Adverts – Humanitarian Field – 5/5/2022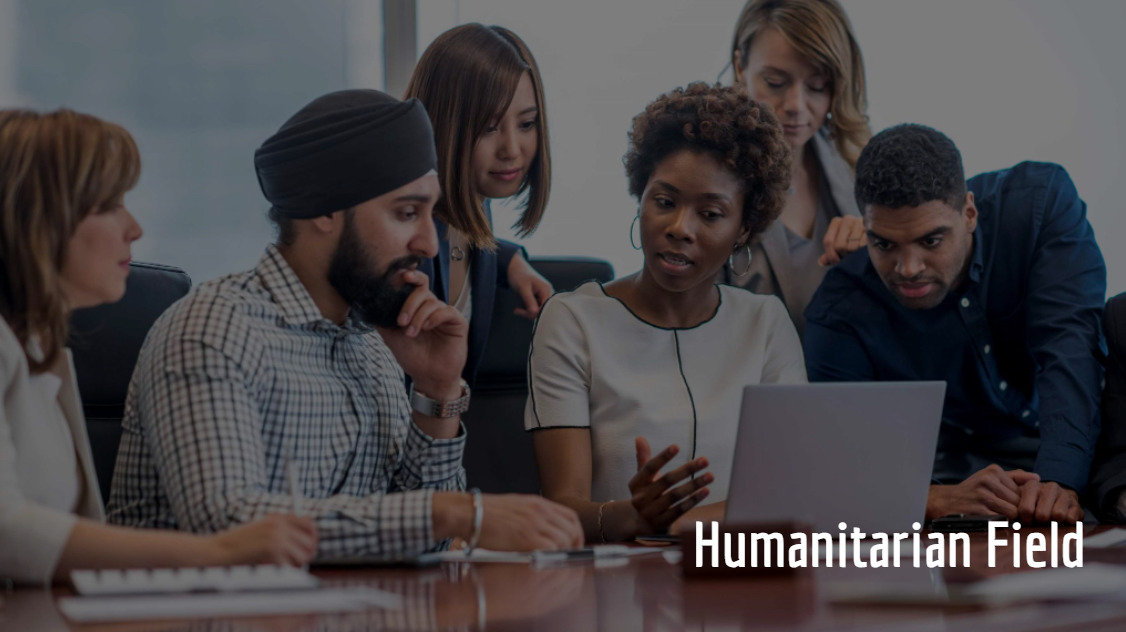 Communications Officer-Athens-GENERATION 2.0 RED
ORGANISATION: GENERATION 2.0 RED
JOB VACANCY: Full time (8 hours/day)
CITY: Athens
START DATE: ASAP
CONTRACT LENGTH: 6-month fixed term contract with possibility of extension
ABOUT GENERATION 2.0 RED
Generation 2.0 for Rights, Equality & Diversity is a nonprofit organization consisted of people with different origins who work together to promote equal participation in a diverse society, through the empowerment of communities. We combine action and research, aiming to promote human rights, equality and diversity, fight racism, xenophobia and discrimination in general. As an organization, we have over 10 years of experience in social action, sociological & legal research, project management and cultural events. We participate and cooperate with the largest human rights networks in Greece and Europe, claiming the rights of socially vulnerable groups, regardless of their origin, nationality, religion, gender or sexual orientation.
Generation 2.0 RED is looking for a Communications Officer who will have the overall management of the organization's communication channels, will be responsible for designing a strategy for the promotion of the organization as well as the impact of the project. The selected Communications Officer will work closely with all departments.
Responsibilities
Collaboration with the administration to develop and implement an effective communication strategy based on the target audience.
Cooperation with all departments and adaptation of the communication strategy to the needs of each department
Preservation and evolution of the identity of the organisation
Wider dissemination of the organization's activities
Ensure appropriate web traffic to communication channels and improve their performance
Management of social media and websites
Supervision of all internal and external communications, ensuring that messages are consistent and attractive
Email Marketing
Create newsletter on a monthly basis
Content creation and editing (information texts, press releases, reports, speeches, etc.)
Creating communication material (photos, banners)
Collaboration with external partners to create or maintain-development of communication material
Alternative means of communication of the vision of the organisation
Planning and implementation of campaigns in cooperation with each department
Events organisation
Representation of the organisation
Communication with Greek and international media to promote actions
Managing media requests for information and interviews
Maintenance of media database
Keeping a record of media reports in the organisation
Define and monitor key performance indicators and metrics for each communication channel that will indicate the level of success and the creation of monthly reports
Apply if you have:
Excellent command of Greek and English (production of written and oral speech)
Degree in Communications, Journalism or other relevant field.
At least 2 years of previous professional experience in a similar position
Good command of Microsoft Office, Content Management Systems (CMS) and social media platforms. Knowledge of the use of multimedia and digital tools is an asset
Very good time management and organisational skills
Very good skills in organising tasks
Teamwork and positive mood
Excellent interpersonal and intercultural skills and a desire to learn
Attention to detail and orientation to result
Ability to work with minimal supervision based on organisation procedures
Creativity
Capacity for initiative
Confidentiality and implementation of the organisation's Rules of Procedure
If you want to join our team, please send your CV and a motivational letter at [email protected]  until 20/05/2022 with the indication "Job Position: Communications Officer".
All applications will be assessed by G2RED regardless of your origin, religion, ethnicity or any other characteristics, as always.
Only shortlisted candidates will be contacted.
---
Υπεύθυνος-η Διαχείρισης Έργων-Αθήνα-ΣΥΛΛΟΓΟΣ ΓΟΝΕΩΝ ΚΗΔΕΜΟΝΩΝ ΚΑΙ ΦΙΛΩΝ Α.ΜΕ.Α. "ΤΟ ΕΡΓΑΣΤΗΡΙ"
Θέση Εργασίας
Ο/Η υποψήφιος-α θα ενταχθεί στην ομάδα Έρευνας και Ανάπτυξης του φορέα.
Κύρια καθήκοντα της θέσης:
Διαχείριση Εθνικών συγχρηματοδοτούμενων προγραμμάτων (ΕΟΠΥΥ, ΕΣΠΑ)
Διαχείριση Ευρωπαϊκών συγχρηματοδοτούμενων προγραμμάτων (Erasmus+ κτλ)
Παρακολούθηση οικονομικού αντικειμένου των αντίστοιχων προγραμμάτων
Συγγραφή και υποβολή προτάσεων χρηματοδότησης
Αναζήτηση ευκαιριών χρηματοδότησης
Διοικητική Υποστήριξη φορέα
Απαραίτητα προσόντα:
Απόφοιτος-η Τριτοβάθμιας Εκπαίδευσης με συναφές αντικείμενο (Διοίκηση Επιχειρήσεων, Ανθρωπιστικές Σπουδές, Πολιτικές Επιστήμες)
Άριστη γνώση Αγγλικής γλώσσας
Άριστο επίπεδο δεξιοτήτων χρήσης Η/Υ
Δυνατότητα συμμετοχής σε επαγγελματικά ταξίδια στην Ελλάδα και το εξωτερικό
Άριστες επικοινωνιακές δεξιότητες
Προηγούμενη εμπειρία στο πεδίο διαχείρισης ευρωπαϊκών ή εθνικών συγχρηματοδοτούμενων προγραμμάτων
Προηγούμενη εμπειρία στο πεδίο διαχείρισης έργων
Αποστολή βιογραφικών στο: [email protected]
---
Kitchen Coordinator-Athens-PROJECT ARMONIA
Who is Project Armonia?
We are a grassroots organisation acting in solidarity with displaced people to promote equal access to nutrition and education.
For the past two years, we have operated a free-restaurant that served over 1000 healthy and nutritious meals per day to displaced people  on the hotspot island of Samos. We have worked with a diverse team of 29 different nationalities.
Now, we have a new exciting challenge ahead!
We are currently setting up a new food project in the city of Athens. We aim at opening a community kitchen serving up to 1000 warm, nutritious takeaway meals a day to people in need.
Role & Responsibilities:
We are looking for an experienced, motivated individual to join our team, who can help set up our new kitchen in Athens and manage our day to day operations.
Job description:
Working hours: Full time Monday to Friday
Location: Athens, Greece
Setting up and managing kitchen operations and kitchen team.
Training, guiding and supervising the kitchen team in meal preparation, cooking and food saftey.
Setting up, implementing and monitoring hygiene and safety procedures and practices.
Setting up and managing a food distribution schedule.
Establishing, maintaining and monitoring kitchen logistical processes, including food supplier relations; food stock inventory, storage and delivery; monitoring kitchen-related spending in compliance with the budget.
Essential Requirements
Three years of professional experience working in a kitchen management role
Fluency in Greek and English
Sound Knowledge of Microsoft Office
Valid HACCP certification
Adaptability and prioritisation in a fast-paced environment
Excellent organisational and time management skills
A strong team player with a flexible attitude and problem-solving abilities
Other requirements
Ability to work well, both independently and within a team
Able to act on own initiative and take responsible decisions
Evidence of commitment to ongoing professional and personal development
Excellent communication and interpersonal skills
Desired skills & experience
Understanding of the context in which we operate
Knowledge of the Athens context in relation to the culinary sector
Ability to work in a culturally diverse team
What we offer:
A truly rewarding role as a part of a highly committed team
Hired on contract under Greek law until the end of 2022, renewable
1,200 – 1,500 EUR gross per month depending on previous experience
25 days paid holidays per year, plus compulsory public holidays
The application process:
Application deadline: 15 May 2022
Start date: 1 June 2022
To apply, send a copy of your CV and accompanying cover letter to

[email protected]

projectarmonia.org
We are looking forward to an online video interview or an interview in person in Athens to get to know each other better
---
Accounting and Reporting Officer-Athens-SOLIDARITY NOW
The ideal candidate for the Accounting and Reporting Officer position will need to possess the following:
Bachelor's degree in Accounting and/or Finance
Minimum 3 years of relevant working experience
Familiar with ERP (Navision experience preferred)
Experience in the NGO sector and/or European Programs, budgeting, and reporting
Knowledge of Greek GAAP (IFRS would be a plus)
Excellent use of MS Office Suite (particularly Excel)
Fluency in Greek and English, both oral and written
Interested candidates should submit in a single document their Resume/CV with an introductory text in English to: [email protected] by mentioning in the email subject "Accounting and Reporting Officer".
Senior Employability Officer-Athens-SOLIDARITY NOW
Experience and Qualifications
Essential
Experience in employment support, recruitment, capacity building, and/or training.
Excellent case management skills and track record of delivering quality services to a large pool of beneficiaries
Knowledge of the Greek labour market, and how to navigate it to better match opportunities with the profile and skills of a candidate.
Well organised, structured, and self-disciplined, with excellent time-management skills
Very strong interpersonal skills.
Good networking and relationship management skills.
Project / team management experience.
Proficient user of MS Office (Excel, Word, PowerPoint, Outlook)
Fluent in Greek and English (both written and verbal)
If you are interested in applying, please send your CV and motivation letter to [email protected] mentioning in the email subject "Athens Solidarity Centre (ASC) Senior Employability Officer".
Child Rights, Gender Equality and Parental Counseling Officer-Thessaloniki/Athens-SOLIDARITY NOW
Qualifications
University degree (preferably Master's) from an accredited academic institution in Social Sciences, Psychology, Social Work, Gender Studies, or any other relevant field.
Minimum two years of professional experience in supporting vulnerable social groups and particularly refugee and migrant children and their parents.
Excellent knowledge of children's rights, gender equality, supportive parenting.
Excellent organizational, verbal, and written communication skills.
Fluency in Greek and English.
Program planning and implementation skills.
Proficient with MS Outlook, Excel, PowerPoint, and Word business software.
Cross cultural awareness and flexibility.
Ability to work on own initiative and at the same time as part of a multi-cultural and multi-disciplinary team.
Ability to work under a distance-management scheme.
Ability to organize and prioritize workload, using initiative when appropriate.
Energetic, enthusiastic, and able to motivate others.
Demonstrating high cultural sensitivity.
Experience in community mobilization
Cross-cultural awareness and flexibility
 If you are interested in applying, please send your CV and motivation letter to [email protected] mentioning in the email subject "SN Child Rights, Gender Equality and Parental Counselling Officer".
Lawyer-Thessaloniki-SOLIDARITY NOW
Qualifications:
Essential
Minimum three years of experience in practicing law (at least 6 months in project serving refugees and migrants population)
Lawyers Permission of Work
Excellent knowledge of the following areas of Greek law: asylum and family law.
Good knowledge of administrative and criminal law is desired
Legal analysis: ability to identify and address legal issues for advice and representation
Substantial experience of advising and representing individuals with some vulnerability on a professional or voluntary basis
Previous experience of human rights/protection work, especially of vulnerable social groups, is highly desirable
Awareness and ability to work with survivors of Gender-based Violence and the sensitivities and confidentiality measures that this involves.
Ability to adjust communication skills according to the age of the beneficiary
Good interpersonal, team working & communications skills
Fluency in English
If you are interested in applying, please send your CV and motivation letter to [email protected] mentioning in the email subject "SN Lawyer_Thessaloniki Roving_ Greece".
---
Ψυχολόγος–Θεσσαλονίκη–ΑΡΣΙΣ
Απαραίτητα προσόντα:
Τίτλος σπουδών Πτυχίου Ψυχολογίας ΠΕ
Άδεια ασκήσεως επαγγέλματος (θα πρέπει να αναγράφεται στο βιογραφικό)
Προηγούμενη επαγγελματική εμπειρία τουλάχιστον 1 έτους σε συναφές αντικείμενο (δομή φιλοξενίας ασυνόδευτων ανηλίκων, αν δεν υπάρχει κανένας υποψήφιος με συναφή εμπειρία σε δομή φιλοξενίας τότε θα θεωρεί συναφείς εμπειρία ευρύτερα προηγούμενη εργασία στο προσφυγικό αντικείμενο).
Καλή γνώση της Αγγλικής Γλώσσας
Καλή γνώση χειρισμού Η/Υ
Άδεια οδήγησης ΙΧ αυτοκινήτου (τουλάχιστον 1 έτους οδηγικής εμπειρίας)
Οι ενδιαφερόμενες/οι καλούνται να αποστείλουν μέσω email στο [email protected] έως τις  10/05/2022 στις 17:00, τα κάτωθι, με τίτλο «Προκήρυξη για την θέση ψυχολόγου-στη δομή Έλλη Αλεξανδρούπολης».
Βιογραφικό Σημείωμα
Επιστολή Εκδήλωσης Ενδιαφέροντος για τη συγκεκριμένη θέση (Βιογραφικά που θα αποσταλούν χωρίς επιστολή εκδήλωσης ενδιαφέροντος, δεν θα θεωρηθούν έγκυρα και δεν θα συμπεριληφθούν στην διαδικασία αξιολόγησης)
Φροντιστής/Επιμελητής-Αθήνα-ΑΡΣΙΣ
Επιθυμητά προσόντα:
Γνώση δεύτερης ξένης γλώσσας (Ουρντού, Φαρσί, Σομάλι, Γαλλικά)
Προηγούμενη εργασιακή απασχόληση με ομάδες εφήβων, εργαστήρια δραστηριοτήτων και ανάπτυξης δεξιοτήτων
Άδεια οδήγησης Β' κατηγορίας
Καλή γνώση των δικαιωμάτων των παιδιών και των εφήβων και κατανόηση των αναγκών τους
Οι ενδιαφερόμενες/οι καλούνται να αποστείλουν μέσω email στο στο [email protected] έως τις 06/05/2022 στις 16:00, τα κάτωθι, με τίτλο «Προκήρυξη για τη θέση Φροντιστή/Επιμελητή – Αθήνα».
Βιογραφικό Σημείωμα
Επιστολή Εκδήλωσης Ενδιαφέροντος για τη συγκεκριμένη θέση(Βιογραφικά που θα αποσταλούν χωρίς επιστολή εκδήλωσης ενδιαφέροντος, δεν θα θεωρηθούν έγκυρα και δεν θα συμπεριληφθούν στην διαδικασία αξιολόγησης)
Βοηθός Μάγειρα-Μακρυνίτσα-ΑΡΣΙΣ
Απαραίτητα προσόντα:
Τίτλος σπουδών Σχολής Μαγειρικής
Προηγούμενη σχετική επαγγελματική εμπειρία παρασκευής γευμάτων για παιδιά ή σε κατάστημα μαζικής εστίασης.
Προηγούμενη σχετική επαγγελματική εμπειρία παρασκευής γευμάτων διαπολιτισμικής κουζίνας.
Εμπειρία στην τήρηση και διαχείριση αποθέματος αποθήκης.
Εμπειρία στην προετοιμασία και παραγγελία προμηθειών.
Άδεια οδήγησης ΙΧ αυτοκινήτου
Ώρες απασχόλησης (εβδομαδιαίως): 24 (σε περιπτώσεις αδειών του μάγειρα πλήρους απασχόλησης δύναται να εργάζεται έως και 40 ώρες εβδομαδιαίως)
Οι ενδιαφερόμενες/οι καλούνται να αποστείλουν μέσω email στο [email protected] έως τις 05/05/2022 στις 17:00, τα κάτωθι, με τίτλο «Προκήρυξη για την θέση βοηθού μάγειρα- Μακρινίτσα».
Βιογραφικό Σημείωμα
Επιστολή Εκδήλωσης Ενδιαφέροντος για τη συγκεκριμένη θέση (Βιογραφικά που θα αποσταλούν χωρίς επιστολή εκδήλωσης ενδιαφέροντος, δεν θα θεωρηθούν έγκυρα και δεν θα συμπεριληφθούν στην διαδικασία αξιολόγησης)
Ψυχίατρος-Θεσσαλονίκη-ΑΡΣΙΣ
Απαραίτητα προσόντα:
Πτυχίο Ιατρικής
Ειδικότητα Ψυχιάτρου
Άδεια άσκησης επαγγέλματος
Προηγούμενη διετή επαγγελματική ή εθελοντική εμπειρία
Άριστη γνώση της Αγγλικής Γλώσσας
Δεξιότητες συνεργασίας και συντονισμού στο πλαίσιο λειτουργίας της ομάδας. Ικανότητα να εργάζεται υπό συνθήκες πίεσης και ανάληψης πρωτοβουλιών, ικανότητα οργάνωσης και εποπτείας, ικανότητα επίλυσης προβλημάτων σε καθημερινές καταστάσεις κρίσης, εμπειρία στη διοργάνωση διαπολιτισμικών κοινοτικών δραστηριοτήτων, δράσεων εξωστρέφειας, εμψύχωσης νέων και δημιουργικής απασχόλησης, εμπειρία στην επικοινωνία με δημόσιους και ιδιωτικούς τοπικούς φορείς, να λειτουργεί παραγωγικά, προάγοντας την ομαδικότητα, να νιώθει άνετα σε ένα πολυ-πολιτισμικό περιβάλλον, να είναι ευέλικτος.
Άριστη γνώση χειρισμού Η/Υ
Οι ενδιαφερόμενες/οι καλούνται να αποστείλουν μέσω email στο
[email protected]  έως τις 09/05/2022  στις 17:00 , τα κάτωθι, με τίτλο «Προκήρυξη για τη θέση Ψυχιάτρου GD01».
Βιογραφικό Σημείωμα
Επιστολή Εκδήλωσης Ενδιαφέροντος για τη συγκεκριμένη θέση
---
Information Management-Athens/Thessaloniki-IOM
Required Qualifications and Experience
Education
• Bachelor's degree in Systems Engineering, Statistics, Mathematics, Computer Science or arelevant field from an accredited academic institution with minimum two years of relevant workexperience; or,
High school certificate/ diploma with minimum four years of relevant work experience.
Master's degree in above fields an advantage.
Experience and Skills
Previous experience working in a similar role.
Experience with protection programming and implementation of protection activities including knowledge of Gender-Based Violence IM systems is preferred.
• Experience working with specialized international agencies (UN Agencies, International Organizations, and International NGOs) an advantage.
Strong organizational, facilitation, communication, writing and presentations skills, preferably in multicultural setting.
Demonstrated ability to draft and prepare clear and concise formal
correspondence and project reports.
Proficiency in a Microsoft Office environment and office software packages.
• Knowledge of statistical software packages, Power BI, ODK, or similar Business Intelligence and Data Collection software desirable.
Familiarity with GDPR an advantage.
Demonstrated ability to work well under pressure and keep deadlines.
Strong work ethics and commitment to humanitarian principles.
Valid drivers' license with at least five years driving experience an advantage.
Languages
Fluency in English and Greek (written and oral) is required.
How to apply:
Interested candidates are invited to submit their application including a cover
letter, CV and a completed Personal History Form in English by email to: [email protected], specifying the vacancy reference number GRCFA22-166, preferred duty station(s) and full name in the subject line.
---
Senior Project Officer/Child Protection-Athens-CATHOLIC RELIEF SERVICES
Typical Background, Experience & Requirements:
Education and Experience
Bachelor's Degree required. Degree in Education or in the field of Social Sciences would be a plus. Additional experience may substitute for some education.
Minimum of 4 years of work experience in project support, ideally in the field of humanitarian response or refugee integration and for an NGO.
Experience working with partners, participatory action planning and community engagement.
Experience monitoring projects and collecting relevant data.
Experience using MS Windows and MS Office packages (Excel, Word, PowerPoint).
Personal Skills
Analysis and problem-solving skills with ability to make sound judgment
Good relationship management skills and the ability to work closely with local partners
Proactive, results-oriented and service-oriented
Attention to details, accuracy and timeliness in executing assigned responsibilities
Required Languages: Greek and English.
---
Υπεύθυνος/η Επικοινωνίας & Εξεύρεσης Πόρων-Αθήνα-GREEK COUNCIL FOR REFUGEES
Απαραίτητα προσόντα:
Πτυχίο ΑΕΙ Επικοινωνίας/ΜΜΕ, Δημοσιογραφίας, Οπτικοακουστικών Σπουδών, Δημοσίων Σχέσεων ή άλλου συναφούς αντικειμένου
Προϋπηρεσία τουλάχιστον 2 ετών σε αντίστοιχη θέση
Κατανόηση των νομικών και κοινωνικών ζητημάτων με τα οποία ασχολείται η οργάνωση (προσφυγικό, ανθρώπινα δικαιώματα, ευάλωτοι πληθυσμοί κ.λπ.)
Άριστη ικανότητα γραπτού και προφορικού λόγου στα ελληνικά και τα αγγλικά και ικανότητα συγγραφής και μετάφρασης άρθρων και ανακοινώσεων από τα ελληνικά προς τα αγγλικά και το αντίστροφο
Ικανότητα αξιολόγησης των ζητημάτων της επικαιρότητας που σχετίζονται με την οργάνωση
Ικανότητα δικτύωσης με δημοσιογράφους και ΜΜΕ (επικαιροποιημένη λίστα προσωπικών επαφών)
Άριστη γνώση και εμπειρία στη χρήση Windows & Mac OS Platforms, MS Office (Word, Excel, PowerPoint, Internet)
Άριστη γνώση και εμπειρία στη διαχείριση λογαριασμών μέσων κοινωνικής δικτύωσης (Facebook, Twitter, Instagram κ.λπ.), προγραμμάτων σχεδιασμού ιστοσελίδων, mailchimp, google analytics ή συναφών προγραμμάτων
Εμπειρία στη χρήση προγραμμάτων επεξεργασίας εικόνας και βίντεο
Εμπειρία στη διοργάνωση εκδηλώσεων, ημερίδων κ.λπ.
Ευγένεια και επαγγελματισμός στη διαπροσωπική επικοινωνία
Ομαδικό πνεύμα εργασίας και υπευθυνότητα
Ικανότητα τήρησης προθεσμιών
Εκπαιδευτικός Προσχολικής Ηλικίας-Αθήνα-GREEK COUNCIL FOR REFUGEES
Απαραίτητα προσόντα
Πτυχίο ΑΕΙ από Τμήμα Εκπαίδευσης και Αγωγής στην Προσχολική Ηλικία
Προηγούμενη εμπειρία τουλάχιστον 2 χρόνων στην απασχόληση νηπίων, προσφυγικού πληθυσμού
Πολύ καλή γνώση αγγλικών
Βασική γνώση Η/Υ, πακέτο Microsoft Office (Word, Excel, Internet, PPT)
Κοινωνικός/η Λειτουργός-Θεσσαλονίκη-GREEK COUNCIL FOR REFUGEES
Απαραίτητα προσόντα
Πτυχίο Κοινωνικής Εργασίας
Άδεια ασκήσεως επαγγέλματος και βεβαίωση εγγραφής στον Σ.Κ.Λ.Ε.
Επαγγελματική εμπειρία τουλάχιστον 1 έτους
Πολύ καλή γνώση αγγλικών και γνώση χρήσης Η/Υ
Ευχέρεια στην επικοινωνία, ομαδικό πνεύμα, ευελιξία, ικανότητα δόμησης εμπιστοσύνης, διαχείριση κρίσεων
Κοινωνικός/η Λειτουργός-Αθήνα-GREEK COUNCIL FOR REFUGEES
Απαραίτητα προσόντα
Πτυχίο Κοινωνικής Εργασίας
Άδεια ασκήσεως επαγγέλματος και βεβαίωση εγγραφής στον Σ.Κ.Λ.Ε.
Επαγγελματική εμπειρία τουλάχιστον 1 έτους
Πολύ καλή γνώση αγγλικών και γνώση χρήσης Η/Υ
Ευχέρεια στην επικοινωνία, ομαδικό πνεύμα, ευελιξία, ικανότητα δόμησης εμπιστοσύνης, διαχείριση κρίσεων
Interpreter Ukrainian-Thessaloniki- GREEK COUNCIL FOR REFUGEES
Required qualifications:
Primary Language: Ukrainian
Communication language: Greek and/or English.
Basic computer skills.
Interpreter Ukrainian-Athens- GREEK COUNCIL FOR REFUGEES
Required qualifications:
Primary Language: Ukrainian
Communication language: Greek and/or English.
Basic computer skills
HR Generalist-Athens-GREEK COUNCIL FOR REFUGEES
Απαραίτητα προσόντα
Πτυχίο ΑΕΙ / ΤΕΙ Κοινωνικών Επιστημών ή Οικονομικών ή Διοίκησης Επιχειρήσεων.
Προϋπηρεσία τουλάχιστον 2 ετών σε οργανωμένο τμήμα Ανθρώπινου Δυναμικού.
Καλή γνώση Microsoft Office (Word, Excel, PowerPoint, internet)
Πολύ καλή γνώση της αγγλικής γλώσσας (επιπέδου Proficiency).
Γνώση και ορθή τήρηση της εργατικής νομοθεσίας.
Πολύ καλές δεξιότητες επικοινωνίας και διαχείρισης χρόνου.
Καλές οργανωτικές δεξιότητες και δυνατότητα διαχείρισης ταυτόχρονων καθηκόντων.
Ικανότητα εργασίας υπό συνθήκες πίεσης και ικανότητα διαχείρισης κρίσης.
Υπεύθυνος Διαχείρισης Προγραμμάτων-Αθήνα-GREEK COUNCIL FOR REFUGEES
Απαραίτητα προσόντα
Πτυχίο ή και μεταπτυχιακό σε συναφές αντικείμενο (κοινωνικές επιστήμες, Διαχείριση Έργου κ.λπ.)
Προϋπηρεσία 2-3 ετών στη διαχείριση και επίβλεψη έργων σε ΜΚΟ, κατά προτίμηση σε συναφές αντικείμενο με τον σκοπό του ΕΣΠ
Καλή γνώση των χρηματοδοτικών μηχανισμών (π.χ. AMIF, DG Justice, ECHO, EEA Grants, Erasmus+)
Πολύ καλή γνώση χρήσης ηλεκτρονικών υπολογιστών
Άριστη γνώση της ελληνικής και της αγγλικής γλώσσας (σε γραπτή και προφορική επικοινωνία)
Εργαζόμενος Οικονομικού Τμήματος-Αθήνα-GREEK COUNCIL FOR REFUGEES
Απαραίτητα προσόντα
Πτυχίο ΑΕΙ / ΤΕΙ οικονομικής σχολής.
Προϋπηρεσία 2 ετών τουλάχιστον σε αντίστοιχη θέση.
Πολύ καλή γνώση λογιστικών εφαρμογών και ελληνικού λογιστικού σχεδίου.
Πολύ καλή γνώση λογιστικού προγράμματος.
Καλή γνώση Η/Υ (επεξεργασία κειμένου και υπολογιστικού φύλλου, γνώση και χρήση διαδικτύου, παρουσιάσεις σε PowerPoint).
Άριστη γνώση αγγλικών επιπέδου Proficiency ή ισότιμης διαβάθμισης.
Receptionist/ liaison with Ukrainian communities-Athens-GREEK COUNCIL FOR REFUGEES
Required qualifications:
Graduate of secondary school.
Good knowledge of Ukrainian and Greek language.
Basic computer knowledge and Internet navigation.
At least two (2) years of experience in a similar position.
---
Nurse-Samos-MEDECINS SANS FRONTIERES
Qualifications:
Nurse degree/diploma. License to Practice as a Nurse in Greece.
Essential 2 years' experience minimum as a Nurse.
Experience in First Aid.
Desirable previous experience with MSF or any other NGO`s.
Desirable experience in supervising and training others in a team setting.
Mandatory English language.
Human Resources Administrator-Athens-MEDECINS SANS FRONTIERES
Selection criteria:
Degree in Business Administration, Human Resources Management or other related studies
Fluency in Greek and English both oral and written
Minimum three years of experience in a similar position
Prior experience with MSF or other NGOs a plus
Prior working experience in Human Resources department a plus
Very good command of IT tools (excel, word, power point)
Knowledge of PYLON HRM (Epsilon Net) will be considered as an asset
---
Child Friendly Space Facilitator (Maternity Cover) – Lesvos- NTERNATIONAL RESCUE COMMITTEE HELLAS
Requirements:
Bachelor/Diploma from accredited university in a related field (education, social work, psychology);
Minimum of 2 years of experience in a similar position;
Experience in teaching children or implementing recreational activities with children;
Experience in teaching Greek as a foreign language, on a volunteer or paid basis;
Experience in implementing psychosocial support activities is an advantage;
Sensitivity to and awareness of the psychosocial and developmental needs of children;
Possession of technical skills such as painting, music e.tc. are considered as an asset;
Understanding of child safeguarding policies and of safe behaviors around and towards children;
Cross-cultural awareness and sensitivity;
Good interpersonal and communication skills;
Ability to work in challenging environments and ability to adapt in a changing context are required;
Ability to communicate, orally and in writing, in Greek and English. Preference will be given to candidates with knowledge in the following languages: Arabic, Farsi, Dari, Pashto, Urdu, Kurdish;
High competency in MS Office Suit and competency with new technologies.
---
Διασώστης/τρια-Πλήρωμα Ασθενοφόρους-Αθήνα-ΤΟ ΧΑΜΟΓΕΛΟ ΤΟΥ ΠΑΙΔΙΟΥ
Απαραίτητα προσόντα υποψηφίων:
Απόφοιτος ΙΕΚ ΕΚΑΒ ή αλλοδαπής προέλευσης ισότιμου και αντίστοιχου τίτλου σπουδών
Κάτοχος πιστοποίησης ΕΟΠΠΕΠ
Απαραίτητη άδεια οδήγησης Β' και Γ' κατηγορίας
Άδεια ασκήσεως επαγγέλματος
Άριστη γνώση παροχής επείγουσας φροντίδας σύμφωνα με τα εγχώρια και διεθνή δεδομένα
Άριστη γνώση της νομοθεσίας και των θεμάτων ηθικής και δεοντολογίας που διέπουν τη συγκεκριμένη ειδικότητα
Σχετική προϋπηρεσία τουλάχιστον 1 έτους
Παιδαγωγός/Παιδοκόμος-Αρχαία Κόρινθος-ΤΟ ΧΑΜΟΓΕΛΟ ΤΟΥ ΠΑΙΔΙΟΥ
Απαραίτητα προσόντα υποψηφίων:
Πτυχίο παιδαγωγικών σπουδών ΑΕΙ, ΤΕΙ, ΙΕΚ ή πτυχίο επαγγελματικού λυκείου ειδικότητας κοινωνικών φροντιστών ή άλλο συναφές με την φροντίδα παιδιών πτυχίο.
Προϋπηρεσία σε χώρο παιδικής προστασίας, είτε ενασχόληση με παιδιά και εφήβους – τουλάχιστον 2 έτη.
Άδεια άσκησης επαγγέλματος, όπου απαιτείται.
Υπάλληλος Γραφείου-Αθήνα-ΤΟ ΧΑΜΟΓΕΛΟ ΤΟΥ ΠΑΙΔΙΟΥ
Απαραίτητα προσόντα υποψηφίων:
Απαραίτητη η προϋπηρεσία σε συμβολαιογραφικό / δικηγορικό γραφείο
Άριστες γνώσεις σε δηλώσεις ακινήτων, Ε9, Ε2, ΕΝΦΙΑ, φύλλα υπολογισμού αξίας ακινήτων, μισθώσεις ακινήτων κτλ.
Άριστη χρήση της ελληνικής γλώσσας
Καλή χρήση της αγγλικής γλώσσας
Άριστη γνώση χειρισμού εφαρμογών Η/Υ (Ms Office)
Επιθυμητό πτυχίο ΑΕΙ ή ΤΕΙ
Νοσηλευτής-τρια-Τέμενη Αιγίου-ΤΟ ΧΑΜΟΓΕΛΟ ΤΟΥ ΠΑΙΔΙΟΥ
Απαραίτητα προσόντα υποψηφίων:
Πτυχίο Νοσηλευτικής ΑΕΙ ή ΤΕΙ
Άδεια άσκησης επαγγέλματος
Πολύ καλή γνώση αγγλικών
Πολύ καλή γνώση ηλεκτρονικών υπολογιστών
---
Country Director-Greece-DANISH REFUGEE COUNCIL
Relevant educational background e.g. political science, international development, management, economics
Minimum 7 years of senior management experience in complex contexts, experience in refugee and migration contexts is preferred, experience in emergency and/or post-conflict settings is desirable. Prior experience in an INGO management position is an asset
Strong analytical, negotiation, and communication skills
Keen eye on advocacy issues and rights-based discourse, with an understanding of European contexts is an asset
Proven experience in operations management with experience in organizational development/re/structuring is an asset
Proven experience of strategic programming and planning, field implementation, monitoring and evaluation
Understanding of legal frameworks and structures at a country and European level are an asset.
A strong ability to collaborate, network and negotiate with local partners; government officials, EU,UN, donors and other NGOs including proven experience in developing fundraising strategies
Proven leadership skills and competences in people management, including ability to motivate and guide staff working in a complex environment
Fluency in written and spoken English
Knowledge of Greek language is an asset but not essential
---
Υπεύθυνος Διαχείρισης Έργων – Το Εργαστήρι
Κύρια καθήκοντα της θέσης:
Διαχείριση Εθνικών συγχρηματοδοτούμενων προγραμμάτων (ΕΟΠΥΥ, ΕΣΠΑ)
Διαχείριση Ευρωπαϊκών συγχρηματοδοτούμενων προγραμμάτων (Erasmus+ κτλ)
Παρακολούθηση οικονομικού αντικειμένου των αντίστοιχων προγραμμάτων
Συγγραφή και υποβολή προτάσεων χρηματοδότησης
Αναζήτηση ευκαιριών χρηματοδότησης
Διοικητική Υποστήριξη φορέα
Απαραίτητα προσόντα υποψηφίων:
Απόφοιτος-η Τριτοβάθμιας Εκπαίδευσης με συναφές αντικείμενο (Διοίκηση Επιχειρήσεων, Ανθρωπιστικές Σπουδές, Πολιτικές Επιστήμες)
Άριστη γνώση Αγγλικής γλώσσας
Άριστο επίπεδο δεξιοτήτων χρήσης Η/Υ
Δυνατότητα συμμετοχής σε επαγγελματικά ταξίδια στην Ελλάδα και το εξωτερικό
Άριστες επικοινωνιακές δεξιότητες
Προηγούμενη εμπειρία στο πεδίο διαχείρισης ευρωπαϊκών ή εθνικών συγχρηματοδοτούμενων προγραμμάτων
Προηγούμενη εμπειρία στο πεδίο διαχείρισης έργων
https://bit.ly/3KK1JDR