Thursday Job Adverts -Humanitarian Field – 3/3/2022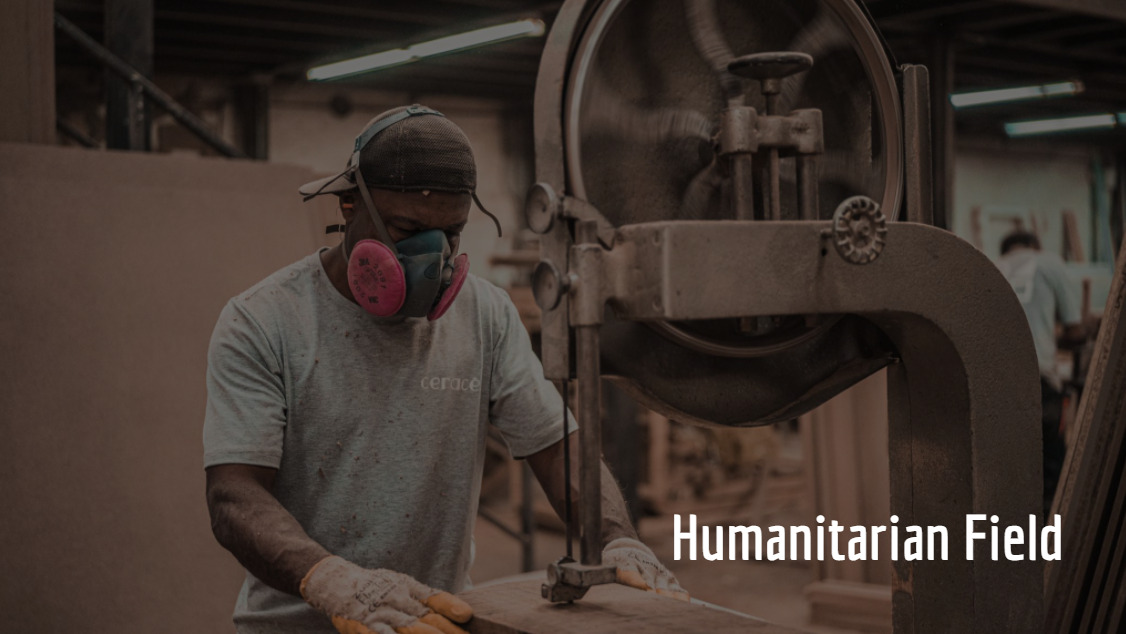 Employability Officer – Attiki – SOLIDARITY NOW
Essential skills & Attributes:
Previous Supported Employment.
Excellent case management skills to deliver a quality service to a large total caseload
Well organized, structured, and self-disciplined, with excellent time-management skills
Recruitment experience will be considered as an asset
Very strong interpersonal and communication skills
Good networking and relationship management skills
If you are interested in applying, please send your CV and motivation letter to  [email protected] mentioning in the email subject "Employability Officer".
Director of Programmes -Athens-SOLIDARITY NOW
Job Requirements / Skills Required
Minimum 5 years of senior management experience in a humanitarian/ development context, including significant field experience.
Master's degree in relevant field (i.e., humanities, social sciences, legal) or equivalent experience
Sound knowledge of NGO humanitarian/development context at a national and EU level
Project management skills including design, implementation, and assessment
Good knowledge of Greek and international humanitarian systems, institutions, donors, procedures and accountability frameworks and best practices in emergency management
Substantial experience and knowledge of effective financial and budgetary control and securing and managing grants from major institutional donors
Highly reliable, able to consistently meet tight deadlines.
Proven leadership and interpersonal skills
Creative and strategic mind with the ability to multitask
Excellent writing and communications skills
Fluency in Greek and English
Excellent knowledge of MS Word, Excel and PowerPoint and CRM databases
 If you are interested in applying, please send your CV and motivation letter to [email protected] mentioning in the email subject "Director of Programmes".
---
Digital Campaigns & Analytics Officer-Athens-ACTIONAID HELLAS
Requirements:
We are currently recruiting a dynamic professional with an academic degree in Marketing, Business Administration, or other related field and at least two (2) years of working experience in relevant position to support ActionAid Hellas' (AAH) digital marketing paid campaigns and analytics. We are looking for candidates with excellent use (both oral & written) of the Greek and English language, proven experience of working with SoMe and website analytics tools along with attention to detail. Experience in managing paid campaigns across Google, Facebook & other platforms is mandatory. Ads Certifications and Facebook Blueprint are considered as an asset.
Applications deadline: 13th of March 2022. Applications not accompanied by a motivation letter will be excluded from the selection process.
---
Cultural Mediator Supervisor-Lesvos-MEDECINS SANS FRONTIERES
Requirements
Desirable degree in social sciences, social communication or teaching. Education in interpretation or cultural mediation is an asset
Minimum two years' experience in related position and in migration/refugees programs of which at least one year with MSF.
: Essential English. Knowledge in Arabic/Farsi-Dari/French is an asset.
Computer Literacy: Essential computer literacy (word, excel and internet)
Commitment to MSF's Principles; Behavioral Flexibility; Stress Management; Results and Quality Orientation; Service Orientation; Teamwork and Cooperation.
To apply
Please send your CV and a cover letter in English at the following email address, quoting reference code "CM Supervisor Lesvos" in the subject line of the e-mail: [email protected]
Head of Mission Assistant-Athens-MEDECINS SANS FRONTIERES
Education
Bachelor's degree in a related field of studies
Fluency in English and Greek
Experience
Previous experience in humanitarian aid, preferably with MSF.
Strong organizational skills
Desired: knowledge of asylum procedures in Greece and good understanding of Greek political context
Essential: very good understanding of the functioning of the different administrations on the local country (critical).
Fin/HR Assistant-Athens-MEDECINS SANS FRONTIERES
Requirements
Desirable finance, business or administration related diploma.
Essential previous working experience of at least two years in relevant jobs.
Desirable experience in MSF or other NGOs in developing countries.
Mission language and local language essential
Essential computer literacy (word, excel, internet)
Cultural Mediator-Lingala & French-Athens-MEDECINS SANS FRONTIERES
Requirements:
Fluency in Lingala and French is mandatory (spoken & written).
Good knowledge of English and/or Greek.
Desirable Arabic
Previous working experience desirable, with MSF or other NGOs.
---
Υπάλληλος Γραμματειακής Υποστήριξης-Σύνταγμα-ΠΑΙΔΙΚΑ ΧΩΡΙΑ SOS
Απαραίτητα προσόντα:
Πτυχίο ΑΕΙ, ΤΕΙ, ΙΕΚ ή ιδιωτικής σχολής σε συναφές αντικείμενο όπως Οργάνωση & Διοίκηση Επιχειρήσεων ή στη Διοικητική-Γραμματειακή Υποστήριξη
Τουλάχιστον 3ετής προϋπηρεσία στο αντικείμενο
Συνέπεια, υπευθυνότητα, ομαδικό πνεύμα εργασίας και άριστες επικοινωνιακές δεξιότητες
Ικανότητα κρίσης, οργανωτικότητα, δέσμευση στην τήρηση του απορρήτου, ικανότητα αποτελεσματικής διαχείρισης διαπροσωπικών σχέσεων
Πολύ καλή γνώση Η/Υ, (πιστοποιητικό ECDL Core 1-7 ή αντίστοιχο)
Πολύ καλή γνώση της αγγλικής γλώσσας
Εκπληρωμένες στρατιωτικές υποχρεώσεις (για τους άρρενες)
Στέλεχος Οικονομικής Διαχείρισης Συγχρηματοδοτούμενων Έργων – Αθήνα-ΠΑΙΔΙΚΑ ΧΩΡΙΑ SOS
Απαραίτητα προσόντα:
Πτυχίο Οικονομικών / Διοίκησης Επιχειρήσεων.
Τουλάχιστον 2 χρόνια προϋπηρεσίας σε αντίστοιχη θέση.
Εξαιρετική γνώση Ελληνικών και Αγγλικών (επίπεδο C2 / C1).
Εξαιρετική γνώση εφαρμογών Microsoft Office με έμφαση στο Microsoft Εxcel.
Παιδαγωγός/Παιδοκόμος ή Κοινωνικός Φροντιστής-Κυλλήνη-ΤΟ ΧΑΜΟΓΕΛΟ ΤΟΥ ΠΑΙΔΙΟΥ
Απαραίτητα προσόντα υποψηφίων:
Πτυχίο Παιδαγωγικών Σπουδών ΑΕΙ, ΤΕΙ, ΙΕΚ ή πτυχίο επαγγελματικού λυκείου ειδικότητας Κοινωνικών Φροντιστών ή άλλο πτυχίο σχετικό με τη φροντίδα παιδιών.
Προϋπηρεσία σε χώρο παιδικής προστασίας είτε ενασχόληση με παιδιά και εφήβους (τουλάχιστον 2 ετών).
Άδεια άσκησης επαγγέλματος όπου απαιτείται.
---
Λογιστής/τρια-Χολαργός-COVERAMEA
Απαραίτητα προσόντα:
Πτυχίο ΑΕΙ ή ΤΕΙ Οικονομικής / Λογιστικής κατεύθυνσης
Γνώση φορολογίας
Καλή γνώση Λογιστικού Σχεδίου
Εμπειρία και εξοικείωση σε λογιστικά και εμπορικά προγράμματα ERP (κατά προτίμηση Pylon)
Γνώσεις εργασιακής νομοθεσίας και έκδοσης μισθοδοσίας
Γνώση χειρισμού Η/Υ και Excel
---
Child Friendly Space Assistant-Larissa-DANISH REFUGEE COUNCIL
Required :
Minimum of one (1) year experience working with children.
Proven experience (including volunteer) working with refugees and asylum seekers.
Strong experience in providing recreational activities to children (drama, play, games, circus, sport, storytelling, drawing/painting, artistic activities, music, dancing)
Advanced verbal and written English skills.
Working knowledge in any of the following languages is required: Farsi/Dari and/or French.
Excellent creativity skills.
Excellent communication skills especially with children.
Women Safe Space Assistant-Larissa- DANISH REFUGEE COUNCIL
Required:
Minimum one year of previous experience with refugee women, asylum seekers and/or migrants is necessary.
Fluency in written and spoken English is required.
Strong language skills in any one of the following languages is required: Farsi/Dari and/or French
Strong computer skills.
High professional ethics.
---
Υπεύθυνος Πεδίου και Διασύνδεσης Αραβογαλλόφωνος-Θεσσαλονίκη-CARITAS HELLAS
ΑΠΑΙΤΟΥΜΕΝΑ ΠΡΟΣΟΝΤΑ ΚΑΙ ΕΜΠΕΙΡΙΑ
• Απολυτήριο, Δίπλωμα ή Πτυχίο Ανώτερης ή Ανώτατης Σχολής.
• Απαραίτητη η προϋπηρεσία σε θέση ευθύνης.
• Τουλάχιστον δύο (2) έτη εμπειρίας σε αντίστοιχη θέση στον τομέα του προσφυγικού.
• Επιμόρφωση, εργασία σε Μ.Κ.Ο. ή εθελοντική εργασία σε σχετική θέση θα συνεκτιμηθεί.
• Άριστη γνώση της Ελληνικής της Αραβικής και Γαλλικής γλώσσας σε γραπτό και προφορικό λόγο.
• Θα συνεκτιμηθεί η άριστη γνώση της Αγγλικής Γλώσσας ή/και άλλων γλωσσών.
• Ικανότητα εργασίας σε ένα απαιτητικό περιβάλλον.
• Δυνατότητα για Ταξίδια: Ταξίδια/μετακίνηση σε περιοχές υλοποίησης του Προγράμματος.
• Πολιτισμική ευαισθησία και άριστες επικοινωνιακές ικανότητες.
• Ομαδική εργασία, ευελιξία.
• Άριστη Ικανότητα σύνταξης αναφορών και διατήρησης αρχείων.
• Πολύ καλή Γνώση Προγραμμάτων ΜS Office.
• Εξαιρετική γνώση χειρισμού Η/Υ και διαδικτυακής πλοήγησης.
• Έγκυρη άδεια παραμονής και εργασίας στην Ελλάδα/Δυνατότητα κατά νόμο εργασίας στην Ελλάδα.
• Θα συνεκτιμηθεί η κατοχή διπλώματος οδήγησης αυτοκινήτου σε ισχύ στην Ελλάδα.
• Γνώση και εκτίμηση για το Όραμα και την Αποστολή της Κάριτας Ελλάς.
• Πλήρης συμμόρφωση με τον Κώδικα Ηθικής και Δεοντολογίας, την Πολιτική Διασφάλισης και Προστασίας από κάθε είδους εκμετάλλευση και κακοποίηση και την Πολιτική Προστασίας Προσωπικών Δεδομένων
• Πλήρης συμμόρφωση με τον Κώδικα Ηθικής και Δεοντολογίας, την Πολιτική Διασφάλισης και Προστασίας από κάθε είδους εκμετάλλευση και κακοποίηση και την Πολιτική Προστασίας Προσωπικών Δεδομένων.
Υποβολή Αίτησης υποψηφιότητας και άλλων δικαιολογητικών
Οι ενδιαφερόμενοι πρέπει να υποβάλλουν στη Γραμματεία της Κάριτας Ελλάς: α) Αίτηση, β)Συνοδευτική Επιστολή, γ) Πλήρες Βιογραφικό τους Σημείωμα στην ελληνική γλώσσα με την όποια προϋπηρεσία τους, σε επιμορφωτικά Σεμινάρια, την απόκτηση άλλου πτυχίου ή μεταπτυχιακού τίτλου ή ειδικότητας κ.λ.π. και άλλα κατά την κρίση τους χρήσιμα βιογραφικά στοιχεία για την τεκμηρίωση των τυπικών τους προσόντων και δ) Δήλωση Συναίνεσης. Τα δικαιολογητικά αυτά μπορούν οι ενδιαφερόμενοι/ες να τα υποβάλλουν στην ηλεκτρονική διεύθυνση [email protected] και με ένδειξη τον κωδικό της θέσης ΥΠΔΑΓ02/2022. Καταληκτική προθεσμία υποβολής των αιτήσεων και των αντίστοιχων δικαιολογητικών, μόνο σε ηλεκτρονική μορφή, ορίζεται η Κυριακή 13 Μαρτίου 2022.
---
Administrative Officer Cash Custodian-Attiki-CATHOLIC RELIEF SERVICES- UNITED STATES CONFERENCE OF CATHOLIC BISHOPS
Typical Background, Experience & Requirements:
Education and Experience
Bachelor's Degree required. Additional education may substitute for some experience.
Minimum of 2 years of relevant experience in project support, ideally for an NGO.
Experience working with stakeholders at various levels and strengthening community partnerships.
Experience using MS Windows and MS Office packages (Excel, Word, PowerPoint).
Experience working with partners, participatory action planning and community engagement.
Personal skills
Analysis and problem-solving skills with ability to make sound judgment.
Good relationship management skills and the ability to work closely with local partners.
Proactive, results-oriented, and service-oriented.
Attention to details, accuracy, and timeliness in executing assigned responsibilities.
Required Languages: Greek and English.
Travel: Non expected.
Interested candidates are welcome to apply by sending their CV and Cover Letter in English with email mentioning in the subject line the title of the position "Administrative Officer_Cash Custodian". The deadline is March 11th, 2022.
---
Arts & Recreation Program Manager-Serres-LIFTING HANDS INTERNATIONAL
Essential criteria
23 years old
commitment of 6 months
Quick thinker, proactive, motivated, open minded, easily adaptable to a fast paced working environment
Previous experience in teaching yoga, fitness, dance or sports.
Confident and strong leadership skills
Have excellent communication skills, experience working in a team with members of different backgrounds and across language barriers
EU/ international driving license.
Country Director over Greece-Serres-LIFTING HANDS INTERNATIONAL
Essential Qualifications:
Minimum two year commitment, must be able to live in Greece for the full period without visa restrictions
At least 3 years experience working in refugee services or similar context
At least 2 years experience in a leadership or management role
At least 1 year of experience working in Greece
Relevant university degree(s) in a related field
International drivers license
Fluent English speaker
Strong interpersonal and management skills; comfortable managing a diverse team and engaging a broad range of stakeholders
Strong organizational skills; capable of staying on task and meeting deadlines
Strong report writing skills (a writing sample may be requested)
Proactive and able to work independently without close supervision
Passionate about LHI's mission to help refugees achieve stability and self-sufficiency