Invitation for the presentation of "Diversity in the Workplace" Website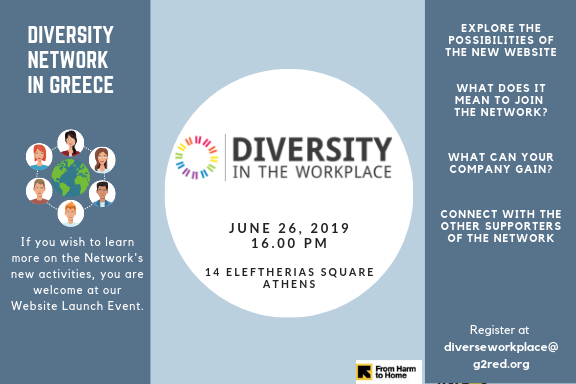 Generation 2.0 for Rights, Equality & Diversity is happy to invite you to the "Diversity in the Workplace" Website Launch Event on the 26th of June at 16.00, at 14 Eleftherias Square, Athens.
"Diversity in the Workplace", the Network of companies and organisations supporting Diversity, is expanding day by day and now it has its own website.
What does it mean to be part of the Network and what can your company gain? Workplace Diversity is a competitive advantage, but why is that? Is it about enhancing the business reputation, leading to increased profitability or opportunities for employees?
A variety of perspectives ensures higher innovation, leads to better decision making and stronger employee engagement.
Through the website you will be able to explore all the various possibilities offered through the Network, such as the free-of-charge services, the promotion of your company's brand, a Diversity Training delivered to your premises and connection with other professionals.
* An extra benefit will be revealed at the end of the Event for the Network's companies.
Here you can find the Facebook event!
---
If you are interested in attending the event, please contact Eirini Angeli, Private Sector Partnerships Officer, via e-mail at [email protected] or call 213 088 4499.